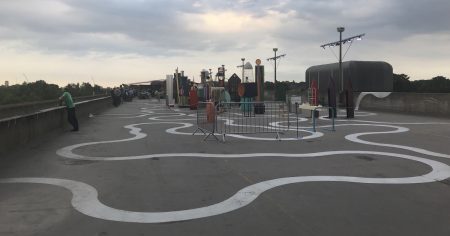 A multi-storey car park in London has been repurposed into an art centre.   Levels 7 and 8 of the Peckham Car Park now accommodate Bold Tendencies, a not-for-profit organisation promoting a mix of contemporary art, orchestral music, opera and architectural projects. The site is open to the general public and has a stylish café on the rooftop.
Different from many car park transformations involving extensive redevelopment works, the organisation kept the bones of the car park showing that it is possible to completely change the use of a space with creativity and art.
Bold Tendencies arts and cultural programme promotes commissioned and site-specific artwork, concerts and operas with a new theme every year; the 2018 focus was ecology.
ptc.'s Partner and Senior Traffic Engineer, Andrew Morse, visited the Bold Tendencies last August and was impressed with the atmosphere of the place. Check out the gallery below for some photos Andrew took during his visit.
Related post:
Repurposing and future-proofing car parks