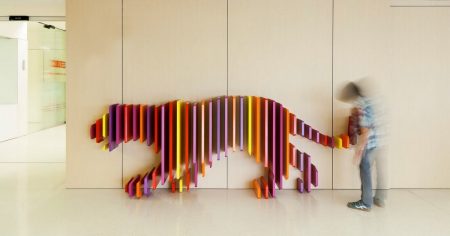 The wayfinding system and environmental graphics adopted at the Sant Joan de Déu Children's Hospital in Barcelona are not what you would expect to find in a traditional healthcare environment. The designers used animals playing hide and seek as the concept for the wayfinding and graphics, playing with children's imagination and getting their attention.
The development of this concept translates into many 2D and 3D animals' silhouettes applied in interior and exterior areas of the hospital. The use of the same palette of colours and repetition of patterns created a unified identity throughout the site.
With the objective of supporting a child-friendly environment, the wayfinding and environmental graphics were designed to bring comfort to children in a place that tends to be unpleasant. The result is a colourful and interactive space which instigates children's curiosity and may result in a less stressful visit to the doctor.
The video below shows details of the design:
Hospital Sant Joan de Déu from rubioarauna.
Related Content:
Article: What makes a good wayfinding system?
Post: Moscow Metro new wayfinding signage in time for the 2018 World Cup
Credits
Designers: Rai Pinto & Dani Rubio Arauna
Video: Cristina Gómez
Photo: Victòria Gil