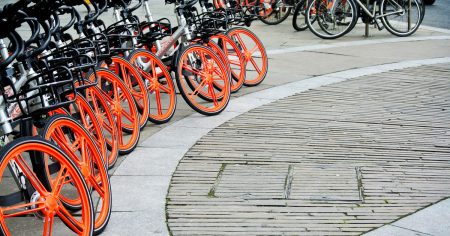 It's not often that we find positive news about cycling in Australia; after all, only 1.1% of Australian commuters choose cycling as their transport mode (Census 2016). However, we have been pleasantly surprised to hear about the share bike uptake in Sydney.
"Over 22,000 share bike trips are being made across Sydney each week – that's equal to 350 Sydney buses packed with passengers", according to the City of Sydney. These trips are backed by two bike share operators in Sydney, Mobike and Lime.
Mobike has been operating for the past 12 months and registered over half million journeys since. Sydney is their most active market in the world. Lime, responsible for introducing electric bikes in Sydney last November, was surprised by Sydneysiders' quick uptake. They recorded 9,000 users signing up in the first two weeks and 5,000 trips in early December.
Dockless bike sharing schemes have been criticised due to the clutter they cause on the streets as users park the bikes anywhere. This issue has not yet been resolved but one of the solutions might be seeing the problem from an infrastructure perspective. If a city aims to increase the number of cycling trips, morebicycles will be on the road and more parking spaces will be needed.
As reported by The Conversation in October 2018, researchers pointed out the discrepancy between the number of available bicycle parking spaces and share bikes. In Sydney, they estimated that there are only 2,500 free parking spaces available to cater for 5,550 dockless bikes.
Related posts
Walking and cycling to work may feel longer than it is
Where are the cyclists and pedestrians?