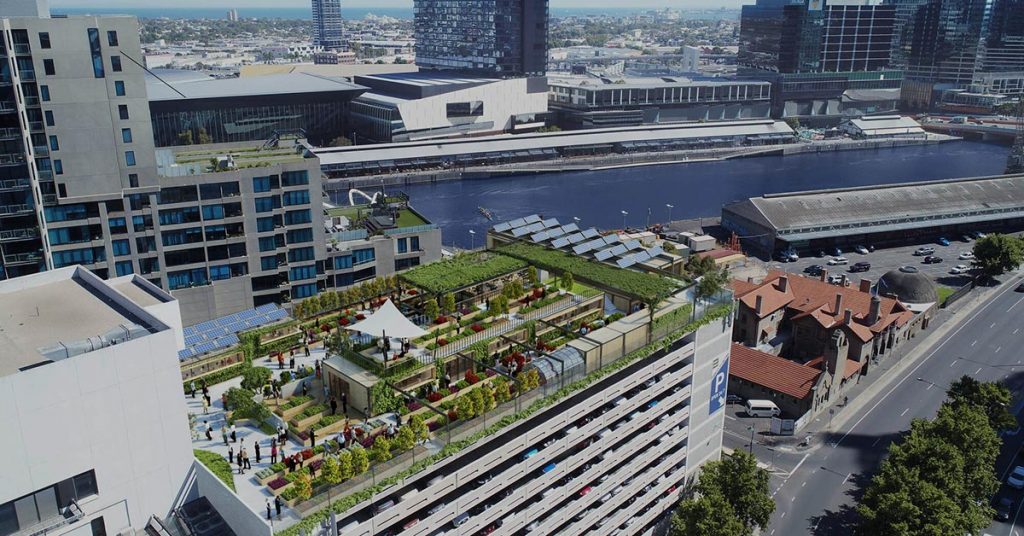 This proposed development, Melbourne Skyfarm, will transform the 2,000 sqm rooftop area of the Siddeley St car park into an urban farm, adding greenery to Melbourne's landscape. Moreover, Skyfarm aims to create awareness about urban farming, which can absorb heat, improving the temperature in city centres. These green islands can also benefit animal life by providing birds, insects and even mammals with more space within the city.
The farm has the potential to harvest five tonnes of produce per year, which will be donated to local charity organisations and used at the on-site cafe and conference space. Finally, the site will be a learning space, for primary, secondary and tertiary students, members of the local community and business owners, who will be able to join Skyfarm tours and workshops.
This is an initiative of three organisations, Odonata, Biofilta and The Sustainable Landscape Company with the support of Melbourne Convention Exhibition Centre and the City of Melbourne. The Skyfarm group has set up a farm test occupying two parking spaces at a car park in Port Melbourne. In six months, they produced 300kg of fruit and vegetables. Watch the video below for more details:
We have been engaged by Melbourne Convention Exhibition Centre in the past to provide parking consultancy advice to Siddely St car park and are thrilled to see one of our clients involved in an innovative and sustainable initiative such as this one.
Related content:
An urban farm in a basement car park
Repurposing and future-proofing car parks
Image credit: Melbourne Skyfarm