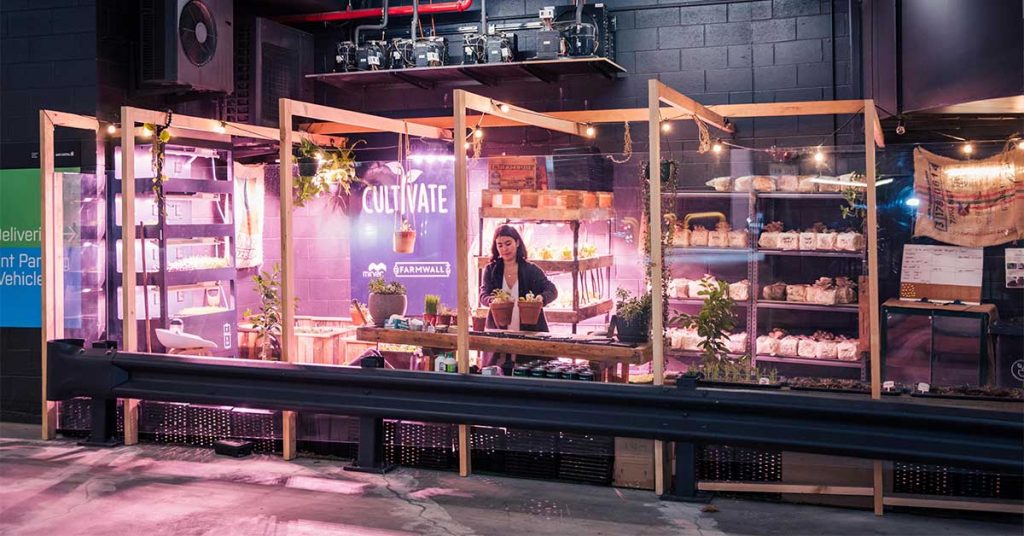 Last week our team visited the car park under the EY building (200 George St, Sydney) but this wasn't a regular site inspection to observe traffic flow issues or to verify the car park occupancy rates. We were there to learn about Cultivate, a pop-up urban farm initiative by Mirvac and Farmwall.
In the face of an autonomous future, Mirvac's innovation team considered urban farming as a possible way of repurposing car parks. In collaboration with Farmwall the idea became reality and a small area of the EY building basement car park was transformed into a garden. Today, rocket, chamomile, sage, mushrooms and other produce are available to employees working in the building to harvest as well as for the local cafe to use in their plates.
Much more than a place to collect fresh organic produce, Cultivate is a space where staff can attend workshops about urban farming, plant seeds, water the plants and take a moment off their busy and stressful routines. Who would have thought that one day people would go to the car park to relax?
Cultivate is an experimental project which was originally set for six weeks and has now been extended for a 12-month trial. Mirvac is currently evaluating the possibility of extending the project to other properties in Australia as well as studying how to make the initiative commercially viable.
This is a great inspiration for those thinking about future-proofing their assets. In addition to using the available space in a sustainable way, the urban farm creates a sense of community. It is a different environment for colleagues to get to know each other whilst sharing a common interest.
See more photos of Cultivate in the image gallery:
Related article:
Photo credit: Henry Li