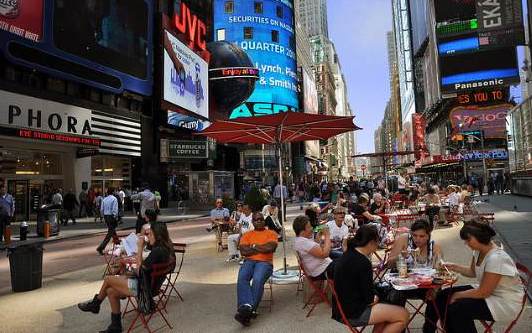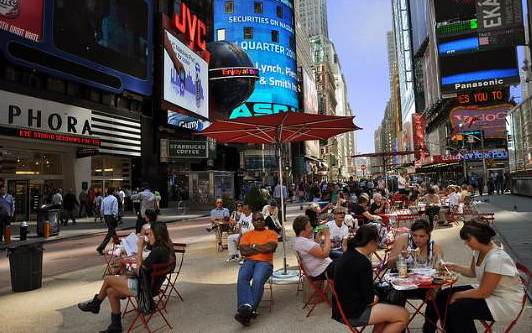 Janette Sadik-Khan, NYC's recent transportation commissioner, was instrumental in the introduction of over 640 km of bike lanes to the NYC cityscape.  She was the driving force behind the impressive makeover of NYC's Department of Transportation (DOT) from 2007 to 2013 with bikes, cycle paths and a new way of mobility top of mind.  As she indicated on bicycling.com, "that magic of mobility is built into the bike".
In Sadik-Khan's first year as commissioner at DOT, she doubled NYC's bike lanes.  As part of this strategy, she turned part of Times Square into a pedestrian haven (just one of 60 similar style plazas throughout NYC), installed more than 56 km of protected bike lanes, and oversaw the introduction of the successful CitiBike bike sharing program.   Sadik-Khan believes that "when you change a street you fundamentally change an entire city".
During her tenure as Commissioner, Sadik-Khan managed what seemed the impossible – to turn the streets of one of the world's greatest, toughest cities into a city filled with vibrant spaces safe for pedestrians and bikers.  Something as simple as "painting a part of the street to make it into a plaza or bus lane, not only made the street safer, but it also lessened congestion and increased foot traffic, which improved the bottom line of business".
With the introduction of nearly 640km of bike lanes, ridership quadrupled and the risk of serious injury for cyclists fell by 35%.  Whilst the culture relating to mobility certainly took an extended amount of time to change, "cities have to move quickly with infrastructure".
Our streetscape has been the same for so long, not only in Sydney, but around the world, that people start to question the benefits of change.  For Sadik-Khan flipping the transport world upside down, means looking at the transport system with "people at the top, rather than cars".  A simple, yet effective philosophy.
Sadik-Khan is now considered an international transport expert.  As principal with Bloomberg Associates, she assists cities worldwide with their own transportation problems.  Her thoughts on improving bike infrastructure have resulted in a book StreetFight:  Handbook for an Urban Revolution.  Something quite special for someone who grew up on the freedom of a bicycle.
With the recent climate agreement in Paris, our leaders are certainly on the front line to address climate change and do everything possible to introduce non-carbon-burning transportation and mobility options.
We at PTC have been following Ms Sadik-Khan's "march" on the world of transportation with numerous past blogs on her progress.  Further reading can be found on blogs posted in 2013 and 2010.