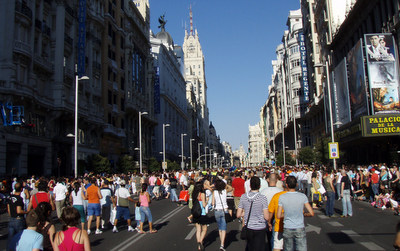 Marylebone Road, in Westminster City, was recently named one of the 20 sites in London with very high pollution. As part of the plan to address the issue, the council wants to discourage the use of diesel vehicles by introducing a parking surcharge, as reported by The Telegraph.
Therefore, from April, diesel drivers will pay an extra 50% on top of the regular £4.90 fee to park their cars in the area. In addition, London is making a move to penalise polluting vehicles by introducing the "T-charge", a toxic levy, later this year. It is expected that the combined surcharges will result in an additional £30.00 to drive and park diesel vehicles in Westminster City Council area.
Madrid already enforces several strategies to address its low air quality levels. Temporary restrictions, such as parking bans, 70km/h speed limits and alternate driving days are applied when the pollution is too high.
However, Madrid's Mayor, Manuela Carmena, wants a long term solution and plans to ban private cars from the city's busiest street, the Gran Via, until 2019, according to CityLab. The drastic restriction will affect a significant amount of drivers as the Gran Via is used to cross the city. The solution is to re-route traffic to an external "belt" and creating a pedestrian-friendly area within the city centre.
Until then the greatest challenge will be to convince the public of the benefits of the change. At least the retail sector is already on the Mayor's side as a result of the positive impacts during a test conducted in last December. During nine days, only buses, taxis and bicycles were allowed in the Gran Via; despite the initial fear that the closure would affect sales by discouraging car-driving customers, the test was a success.
Related article:
How cities are restricting private cars to tackle air pollution
Photo Credit: Business Insider