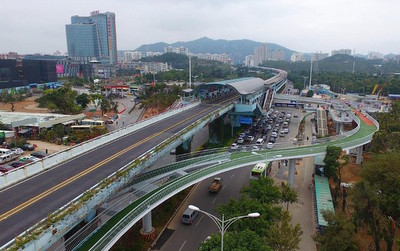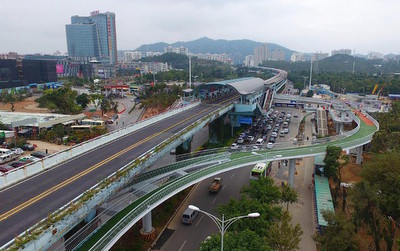 The world's longest elevated cycling path opened last month in Xiamen, China. The project was developed eight years after middle school students proposed an aerial bike lane alongside an elevated road.
As reported by Co.Exist, China's first sky cycling initiative is 7.6 kms long with eleven exit points and has connections with six public transport hubs, providing commuters with a fast and safe alternative to private cars.
The lane can accommodate around 2,000 bikes per hour and even those who don't own a bike can try it by renting one of the hundreds shared bikes provided on site. To ensure that capacity limits are not surpassed, entry gates are automatically closed when it is full.
Copenhagen launched its elevated cycling paths, Cykelslangen (Cycle Snake), in 2014. It is much smaller than the Chinese development at only 220 metres, but it was designed to resolve a specific issue, according to Wired. In a part of the city where cyclists had trouble riding amongst pedestrians at a waterfront shopping area the skyway was the best alternative benefiting all users.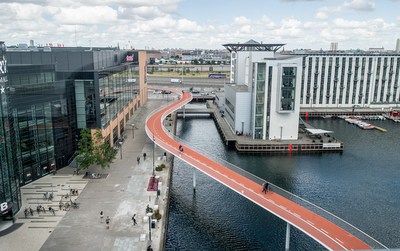 Last year, Infrastructure Victoria's report titled "All Things Considered", proposed the creation of bike highways in Melbourne. According to The Age, the report includes the development of elevated bicycle paths that would provide a safe route for cyclists to ride across and through the city.
Elevated bike lanes provide a safe and fast path for cyclists encouraging commuters to shift from cars to bikes. Despite that, some critics argue that it removes cyclists from the urban space consequently cutting the number of people on the streets similarly to the effect of highways. In addition, this type of infrastructure would segregate cyclists by diminishing their access to shops, cafes, pubs and other public areas. What is your opinion?
Photo Source: The Shangaiist and Danish Architecture Centre