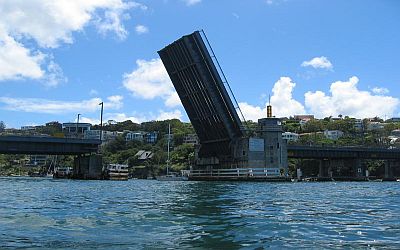 Whilst on holidays over the Christmas break, I got stuck in traffic trying to drive across the Spit Bridge on my way to the Northern Beaches. Why, you ask? Because the Spit Bridge not only services road traffic along a major artery of the city but is also raised to allow boats from Middle Harbour pass through.  OK, I was on holiday and on my way to the beach, it was lunch time and in no hurry to get anywhere by a particular time. Nevertheless, the queue had crept up the Mosman hill almost at Spit Junction. I guess we added at least 15 or 20 minutes to the journey.

The Spit Bridge, constructed in 1958, is what is known as a "bascule bridge", which according to Wikipedia is "a moveable bridge with a counterweight that continuously balances a span, or "leaf," throughout its upward swing to provide clearance for boat traffic. It may be single or double leafed. The name comes from the French term for balance scale, which employs the same principle. Bascule bridges are the most common type of movable span because they open quickly and require relatively little energy to operate".
According to the RMS website, the Spit Bridge (located around 10kms north of the CBD) is an essential transport link between Sydney's northern beaches and the city and is used by approximately 70,000 motorists daily and approximately 60,000 bus commuters daily. Even though the bridge does not open during the am and pm peak hours on weekdays, traffic along this most congested stretch of road is constant throughout the day, particularly during the summer, when traffic most likely peaks in the middle of the day.  In normal peak hour however, traffic crawls at an average of 18 km per hour and public transport adds an average of 20 plus minutes to their journeys.
Due to the height of the bridge, boats with masts of six or more metres above water level (depending on tides) cannot pass underneath unless the bridge is open. Scheduled bridge openings are made on weekdays and weekends allowing these boats to pass through. The current timetable provides for weekday opening six times a day.  Unfortunately, I could not find any statistics of how many boats traverse Middle Harbour at the bridge to draw a comparison of the number of motorists and boat enthusiasts are inconvenienced or likewise serviced by this archaic practice but I hazard a guess that it is heavily slanted in the favour of the latter.
Military Road, which becomes Spit Road at Spit Junction, is one of Sydney's most congested roads, its six lanes of traffic hardly able to cope with the pressures of cars, buses, bicycles and pedestrians, let alone delivery vehicles and sundry parked cars. At the bridge, the lanes reduce to four. At the morning peak three lanes are used for south bound traffic towards the city and the opposite in the afternoon. Most of the time, this leaves one lane for people travelling "against the traffic" which is not as desirable as it sounds.
I ask myself is there such a phenomenon anywhere else in the world, where such an important road artery is further paralysed several times each day (and even more often on weekends and public holidays) in order to allow a few boats to cruise around the harbour?
Various plans have been put forward over the years to deal with the Spit Bridge bottleneck, including building a tunnel (a $1billion plus project was touted in 2009, double the cost of a previous version discussed back in 2002), widening the bridge (in 2007 a project was put forward for an additional two traffic lanes and a shared pedestrian bicycle lane with works lasting around 2 years) and building a higher bridge under which the boats can travel unimpeded. None of the plans have seen the light of day.  In November 2014 the State Government announced plans to create a tunnel from the Northern Beaches which would bypass Mosman and link with other Sydney motorway networks, at an estimated cost of $2 to $3 billion.  If you would like to read an interesting story about Spit Bridge's history click here.
While the infrastructure plans and budgets are debated, the day to day costs of not implementing redevelopment plans through extra costs, time loss, health and blocks on population movement continues to mount.  These impacts are felt daily by individuals, families, businesses, transport networks and the environment, all of which has an overall negative effect on economic productivity.
It reminds me of something Lew Grade said in 1980 following the flop of his film "Raise the Titanic" which cost $36 million and only returned $8 million in rentals: "it would have been cheaper to lower the Atlantic"…..
By Cristina Lynn, Managing Partner