2013-2014 Road Toll by State/Territory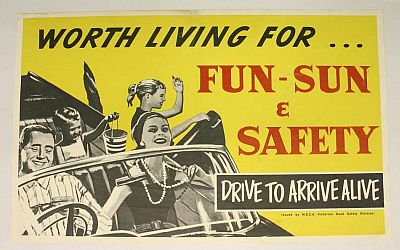 Image:  www.museumvictoria.com.au
During the twelve months ending December 2014 there were 1,153 road fatalities in Australia.  Overall this is a 2.9% reduction on the 2013 road toll.  However, state by state analysis is showing concerning increases in Victoria (2.5%), South Australia (9.2%), Western Australia (11.7%) and the Northern Territory (5.4%).  In South Australia and Western Australia   significant increases were noted in rural areas, causing Governments in both States to focus campaigns on rural road safety in 2015.
The chart below outlines 2014 road toll fatalities by state and territory: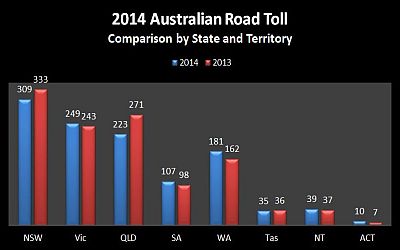 The good news for New South Wales and Queensland are the recorded reductions  , -7.2% and -17.7% respectively.  Tasmania's toll also reduced by -2.8% from the previous year.
For more detailed analysis and statistics you can access the 2014 road toll report by the Commonwealth Government.
National Road Trauma Review
In June 2014 the Bureau of Infrastructure, Transport and Regional Economics delivered its National Road Trauma Review.  The Review included feedback from national bodies and agencies with representatives from each State and Territory.
The workshop identified a range of key themes and initiatives (supported by details developed in the workshop by the participants) specifically aimed to achieve a reduction in road trauma, for example:
Enhancement of road infrastructure safety standards :
Intersections
Roadside Infrastructure
Integration of road safety features into capital programs
Technology measures to modify driver behaviour :
Autonomous braking / vehicle based crash avoidance
Alcohol interlocks
Blackbox
Fatigue identification
The emergence and development of cooperative ITS (Intelligent Transport Systems)
Enforcement initiatives :
Distracted driving
General enforcement (speed, drugs, seat belts)
Reducing blood alcohol limits
Insurance incentives
Speed based initiatives  :
Reduction of speed from 60 km/h to 50 km/h on minor arterial roads
Frameworks for local government speed management
Road design on rural / urban fringe
First aid training for drivers
In addition, a number of enabling activities were identified as important for reducing road trauma such as:
A research platform to inform investment and initiatives
Leadership in program development and implementation
Management capacity to deliver programs
Incentives for collaboration between agencies
Continuity and advancement of ANCAP and Used Car Safety Ratings (UCSR);
National licensing and training programs
You can access the full BITRE review here.