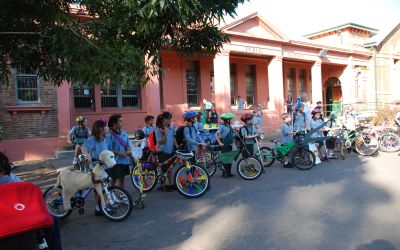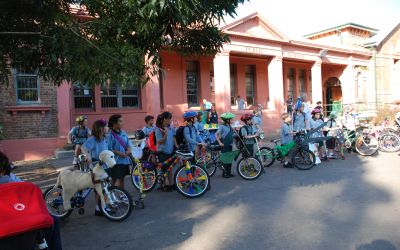 In the last of our school traffic series, we are taking a look at some of the school traffic congestion alternatives being put forward locally and overseas.   The alternatives relate not only to traffic congestion but also how school communities can encourage more active alternatives for children travelling to and from school.
In Mosman, Councillor Tom Sherlock has successfully pushed for the Council to draft a report on how to encourage children to pursue active travel to and from school by walking, biking or scooting.  Cr Sherlock recently told The Daily Telegraph that he estimates school traffic adds 23% to peak hour traffic on Sydney's roads.
Cr Sherlock outlines dual benefits in encouraging parents and children to be less dependent on using cars to get to school.  One benefit would be to encourage children and parents to become more active while the other is to reduce unnecessary traffic on local roads.
The Council's engagement in the report has been based on the need to provide safe routes for parents and children as an alternative to getting to school by car.  One Mosman parent, Paul Evans, told The Daily Telegraph he parks his car halfway between school and home and walks his children from there.  The third benefit of encouraging these types of alternatives is the alleviation of hazardous parking in and around schools during pick up and drop offs.
In October 2014, NSW's Minister for Mental Health and Assistant Minister for Health, Jai Rowell launched the NSW Active Travel Charter for Children.  The charter outlines strategies to increase children's active travel and the ways in which organisations and groups within the community can support this type of travel.
How schools can encourage active travel in their communities
Australia's Bicycle Network will hold their next national Ride2School day on Friday 13th March.  The program supports thousands of schools across Australia to develop a healthy active travel culture.  An estimated 300,000 students will participate by riding, walking, scooting or skating to school.  The program is supported and funded by the Victorian State Government and schools can register and receive their school packs by visiting the Bicycle Network site.
In Wickham, UK the Wickham Church of England Primary School and Road Safety Officers launched the Walk once a Week (Wow) program.  The program aims to encourage children to walk, cycle or scoot to school at least once a week to help reduce traffic congestion at the school gates.
Following a traffic safety audit which was used to assess a safe walking route, the school worked with local community groups and organisations to arrange parking options for parents.  Parents and children were then encouraged to these "park and stride" sites in order to ease local traffic congestion.
In order to break the last barrier of reluctance, pupils were encouraged to persuade their parents to take part in the program through the option of earning a WoW badge.  This resulted in 93% of the school's pupils earning the badge through walking, cycling or scooting to school.  Overall the program achieved two outcomes, the reduction of school traffic congestion and the encouragement of alternative ways for children to keep fit and healthy.  You can read more about the program here.
Barriers to active travel by children
In the UK, road safety charity Brake recently conducted a poll of school pupils aged 11 to 17 to assess their safety fears about walking or cycling to school.  Below were the results:
38% said a lack of safe routes were a barrier to cycling to school;
41% thought traffic was dangerously fast along routes to school;
47% said their parents worries put them off cycling or walking to school;
As highlighted previously in Mosman Council's background to their report, and the WoW programs implementation strategy, one key factor in encouraging parents and children to use active alternatives in getting to and from school is the provision of safe options and routes.
Another successful UK program which supports active yet safe school travel is the Bikeability scheme.  The scheme trains children in safe cycling practices.  By March 2015 the government estimates 1.6m children in the UK will have received the training.  The government has invested £374m into the program.  Alongside encouraging children to cycle to school, the UK government has made it easier to introduce speed limited zones around schools to make cycling safer.
While the barriers for active travel along school routes will require local and state government commitment, schools could implement their own WoW programs with the help of a traffic safety audit and community liaison.  The benefits of encouraging active travel for children and parents could positively impact local traffic congestion and seed active and healthy behaviours through family peer pressure.