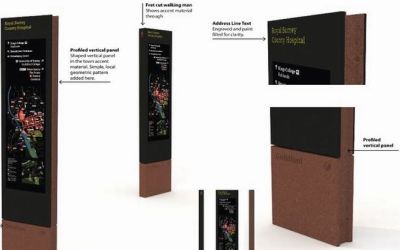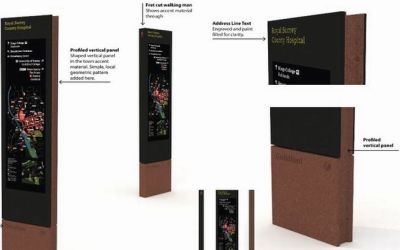 In several towns and cities in the UK, wayfinder signs aimed at making it easier for pedestrians to navigate and explore are being installed.  The new look signage encourages sustainable mobility by helping residents and tourists to navigate their way around town centres and to local landmarks on foot.
The Wayfinder system consists of six-foot tall 'totem' signs displaying maps complemented by smaller 'trailfinder' and 'fingerpost' signage.  The map designs display a simplified layout of the town with major tourist destinations highlighted with trail information.  The average cost to manufacture and install the signs is £2,500-3,000 each.
The signs display the best pedestrian routes to get to places of interest by way of paths, steps and walkways along with highlighting key buildings and landmarks.  Historic and local information about the towns, landmarks and local events are displayed on the right-hand side of the maps. Walking distances and times to destinations are also included on the signage.
The emphasis has been placed on pedestrian routes rather than roads in order to reduce carbon emissions and encourage active travel by residents and tourists alike.  Another aim of the signage is to encourage people to spend more time in town centres viewing points of interest which offers an added benefit to local shops and retailers.
The wayfinder signs are being funded by UK's Department for Transport Local Sustainable Transport Fund.  This fund allows local governments to bid for funding for sustainable travel improvements in order to enable economic growth and reduce carbon emissions.
Similar wayfinder signs being rolled out in New York and other US. Cities.