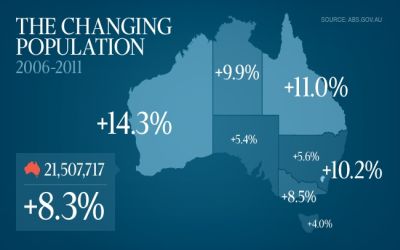 Australian planners may face working without the benchmark information and guidance supplied by the Australian Census.  On 18th February the Australian Federal Government announced that it was considering abandoning the Australian Census in favour of smaller sample surveys.  The Australian Census has been held every five years since 1911 with the last census being held in 2011, marking 100 years of data collection.
Taxpayers paid $440 million for the 2011 census and with the move to electronic lodgment, the census scheduled for 2016 would increase the short-term costs. Scrapping the census could potentially save millions of dollars, however, Economist Peter Martin warns this could lead to costly mistakes in the longer term.
In an interview with Fairfax Media Martin explains that the census is a benchmark for any interim sample surveys conducted by the Bureau of Statistics.    He also indicated that the census is crucial for planning major infrastructure projects such as roads, as well as planning for education and health infrastructure.
Peter Martin also pointed that other countries such as the United Kingdom and Canada are relooking at their decisions to previously axe their census collections.  After a parliamentary inquiry in the U.K the 2021 census is to go ahead.  In Canada, the census was replaced by volunteer sample surveys which statisticians have described the data being collected as garbage.  New Zealand is currently considering whether to hold their census every ten years instead of five.
On 20th February the Planning Institute of Australia (PIA) released a statement saying its members were alarmed by the reports and are seeking clarification.  CEO of the PIA Kirsty Kelly explained that "census data is crucial to strategic planning for our cities and regions", and that "efficient government and private investment in critical infrastructure such as transport, housing, health and education relies upon understanding the demographics."
Peter McDonald, an Australian National University demographer, also told Fairfax Media "there is simply no other way of knowing how many people are in each town or suburb.  Planners would be working without guidance.  Over time it would be harder to know the size of the Australian population."