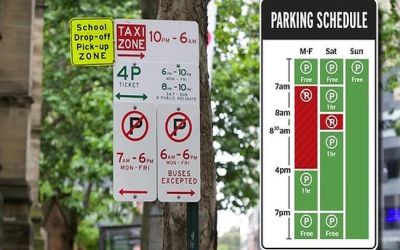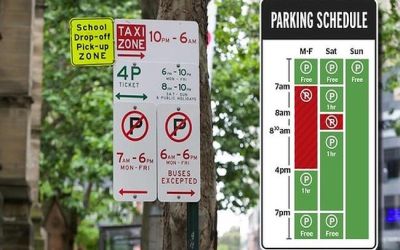 The City of Sydney has been presented with a motion to simplify parking and traffic signage across the city.  As reported in The Daily Telegraph, Cr Jenny Green presented the motion asking the Council's CEO to investigate what other cities and local councils are doing to simplify signage.
Mosman Council is undergoing a plan to replace its 'No Stopping' signs and is working with Roads & Maritime Services (RMS) to approve a time block parking schedule design similar to the image above.
Cr Greens' motion has requested that the Lord Mayor work with other Sydney metropolitan mayors to develop a proposal to be put forward to the State Government which will improve and reduce the current statutory road signage.
Achieving consistent signage across metropolitan Sydney would allow a uniform standard and interpretation for drivers.  This would also allow for any necessary driver education to be conducted on a statewide basis.
The block parking signs have been designed by Nikki Sylianteng, a designer living in New York and graduate of the School of Visual Arts.  Nikki says her strategy was to design signs which "visualize the blocks of time when parking is and isn't allowed."  In designing the block signs, Nikki interpreted the 'biocost' for drivers of interpreting current signage.  Biocost is the human effort required to achieve a task, function or goal.  You can read more about Nikki's designs here.