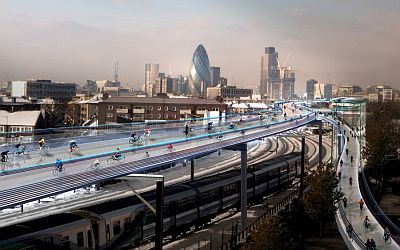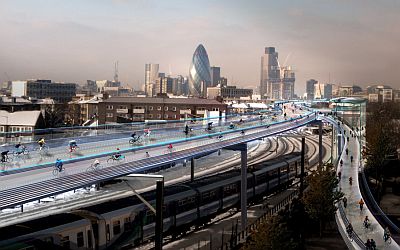 Transport for London's new Cycling Design Standards Policy begins with the words "Cycling is now mass transport and must be treated as such".  Councils in London boroughs are now requiring developers to integrate this approach into their development plans.
A recent example is the 250 City Road project which was required to include ample parking for bikes.  Architects at Foster + Partners incorporated 1486 bikes spaces or a ratio of 1.5 per residential unit.  One quarter of the spaces will be provided by stackable storage racks.
De Zeen Magazine has quoted Giles Robinson, a partner and project architect as saying:
"The project has a dedicated cycle lift from ground to basement level, where the cycle storage areas are located,"
"At the basement level there is a dedicated cycle maintenance workshop that enables cycles to be cleaned and maintained."
Foster + Partners has a reputation for encouraging a cycling culture. Last year Norman Foster unveiled a concept design for a network of elevated cycle paths above London's railways. Called SkyCycle [pictured above], the project was developed with landscape architects Exterior Architecture and transport consultant Space Syntax, and aimed to create a 220-kilometre "cycling utopia" of dedicated cycle lanes.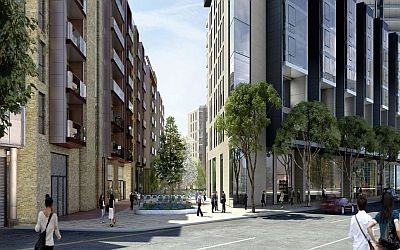 Developments in London will now need to embrace this cultural shift incorporating not only today's cyclist requirements in their projects, but also ensure there is room for future growth.
UNStudio's almost-complete Canaletto tower is part of the same cluster, and will also offer 209 cycle parking spaces for 109 apartments, with just 78 underground parking spaces.
Peter Murray, a member of the London Mayor's Design Advisory Group and a keen cyclist said about the City Road project "It represents a big shift in London. All new developments have to meet the [cycle provision] requirements, but since this is a tall and dense project the impact and scale is impressive."