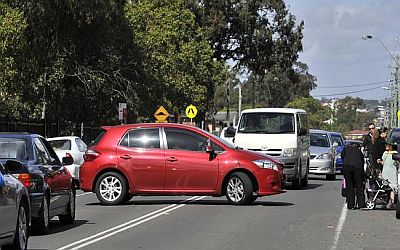 Brisbane City Council plans to target school traffic in 2015 by deploying parking officers in school pick-up and drop-off zones.  The Council has commissioned eight marked cars for use by parking officers to enable them to enforce school zone traffic rules and deal with parking issues around the city's schools.
Council will also work with 300 of the city's schools to develop traffic and parking management plans in order to reduce congestion and increase safety.
Cr Adrian Schrinner told the Brisbane Times "the consensus from schools is that parking areas are not being respected and rules are not being enforced – a dangerous combination which is creating serious safety issues for students and other pedestrians."
He also said "at schools' request, council officers will be out in force, with a very noticeable presence to encourage motorists to drive and park safely.  We want to make sure all motorists are doing the right thing for the safety of school students".
Lord Mayor Graham Quirk also told the Brisbane Times that uniform parking signs would be rolled out across all schools as part of dealing with these concerns.