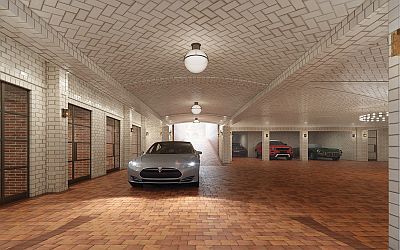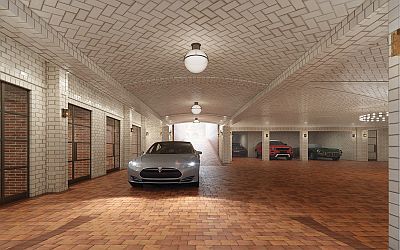 So you're spending a lazy Sunday in New York browsing through the options for an apartment upgrade and you come across 443 Greenwich in Tribeca, New York offering (among the "amenities") a car park inspired by Grand Central Station complete with valet parking, convenient bike racks and a dedicated entry ramp for cyclists.
The following is taken directly from the website. After all, with parking at this level, the adjectives dare not be under done:
Drive through landmarked, ornamental wrought iron gates down to an extraordinary vaulted, lower level lobby with period tiled walls, ƒfloors, and ceilings. Unload passengers or packages in a secure, private space where your valet is ready to drive your automobile for you to adjacent Tribeca parking. Or, purchase one of 15 private on-site parking spaces, each fully equipped with its own electric charging station.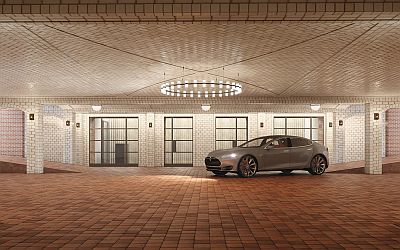 Sorry I forgot to mention earlier, that attached to the parking is an apartment building which houses a penthouse (5 bedrooms, 6 bathrooms, media room, library, 800m2 covered and 350m2 of terrace, etc. etc.) which is going for a cool US$50million.
Postscript: while writing this story the price tag has now increased to USD$51million.