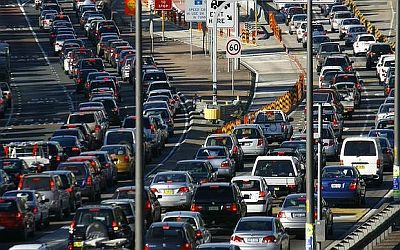 During school terms it is not only traffic which increases but also pressure on public transport systems, localised congestion around schools and particularly at drop off and pick up zones.  All of this equates to an added strain on resources such as roads, public transport, police and local government and consequently to a drain on productivity.  For those regularly travelling on Sydney's roads, it is impossible not to notice the significant reduction in traffic and trip times during the school holidays.  As they come to an end, Sydney faces an increase in traffic of between 5-10% according to the NRMA's Decongestion report [2011].  At a conservative estimate, according to the working paper by David A. Hensher and Corinne Mulley [2012], this accounts for an extra 1 in 20 cars on the roads during peak hours.
This is the situation as it is today.  Now imagine that in the next fifteen years NSW faces an estimated increase of 267,000 school aged children.  The impact will be mostly felt in metropolitan and western areas according to JBA's Alex Cella in his article We don't need no education?  While Alex looks at the school infrastructure issues, the day to day effects of the projected increase will be felt most keenly by commuters, school management, parents and nearby residents.
School traffic:  Impacts felt at a local level
The projected increase in the number of school aged children will demand that over 6,200 new classrooms be built throughout NSW according to the Department of Education and Communities.  These classrooms will need to be accommodated both within current and new sites.  However any expansion plans for existing schools may face a backlash from local residents.  Expanded enrolments will add extra pressure on school management to work with government bodies and local residents in order to implement strategies to cope with increases in school traffic.  In fact, during 2014 some private and independent schools faced legal challenges from local residents objecting to their expansion plans.
Pressure from school traffic is already at breaking point due to a number of factors, including driver behaviour and localised traffic congestion.  It is not unusual for Councils to be called upon to post their rangers outside schools to monitor parking or for the police to supervise school drop off and pickup driver behaviour.   This is an enormous drain on resources.
While the overall school zone traffic safety program is the responsibility of Transport NSW, each individual school faces its own unique issues.  Consideration of the localised roads, intersections, parking availability and traffic flow all need to be considered for a successful Traffic Management Plan to be developed.  The next step is effective parent driver education.  At the present time resources go towards pedestrian education, especially for school children and speeding within school zones.  Transport for NSW has developed the booklet Road safety issues around schools as part of a kindergarten education kit for parents.  They have also developed the following program for schools to police their own pick up and drop off zones.  The program is called "Organising a school drop-off and pick-up initiative".
These generic State sponsored resources can assist schools in educating the school community on driver behaviour.    However, individual schools still have to cope with distinct issues requiring the implementation of specific reviews and measures.
Related article:
Back to school: how to improve traffic and safety (2017)
Image credit: SMH