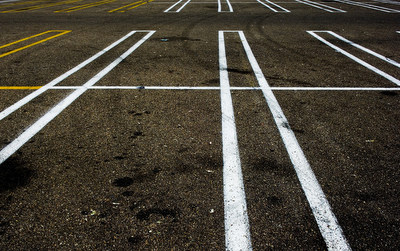 Car park design made the news when NewsMail reported about a shopping centre using double lines to mark bays. While some drivers criticised the design, the car park owner seems supportive of its benefits in comparison to the traditional single line marking.
According to Australian standard, the size of bays with double line marking must be measured from the centre of the pair of marked lines.  Although the total space, including the area inside the double lines, remains the same as in traditional car parks, the actual bay is effectively smaller.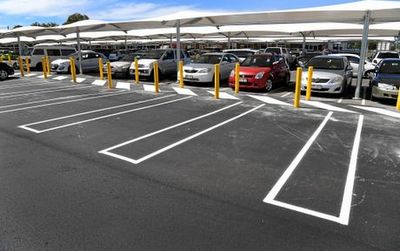 The ptc. team identified a number of pros and cons of using double line marking on car park design:
Pros
Facilitating pedestrian movement between cars
Possible reduction of cars scratching doors against other vehicles
Helps drivers to park straight in the centre of the car space
Cons
The design makes drivers perceive that the bays are smaller than they actually are, potentially generating a negative impression
More lines can distract drivers making it difficult to identify bays when several spaces in a row are empty
For most people, it is counterintuitive to park with the tyres on top of the lines which can make the parking experience difficult for large vehicles
Requires extra turns and manoeuvring to park in the right position
Higher cost to paint (and maintain) extra lines, compared to traditional design
The key question is should you consider or not this design on your next car park?
As each car park is unique, there isn't a definitive answer and evaluating the pros and cons of the specific design challenges of your site may indicate the best way. In addition, you need to consider that most drivers are not used to this type of design, and therefore it may take some time for customers to adapt to it.
What is your opinion?
Photo Credit: Radcliffe Dacanay and NewsMail