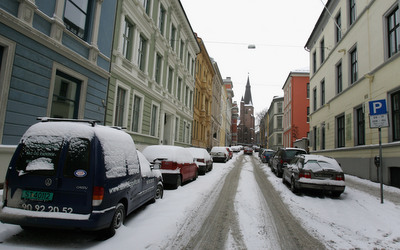 Oslo's plans for a car-free city centre by 2019 is resulting in several changes in the city transport matrix. The city is implementing strategies to make walking the preferred transportation mode, followed by cycling and public transport, as was reported in the Streetfilm movie below.
The city is working on creating more pedestrian friendly areas as well as increasing and enhancing their bike network. According to the Communication Officer of Oslo Agency for Cycling, Liv Jorun Andenes, the best way to promote high-impact and low-cost improvements for cyclists and pedestrians was to reduce on-street parking. The space is being repurposed to create new bike lanes and to enlarge the width of existing cycling paths and sidewalks. Check out the Before and After images below: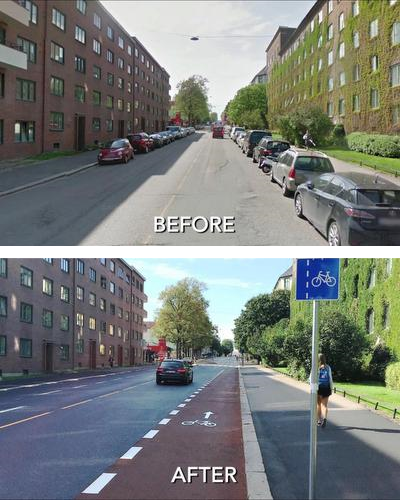 In addition to changes in the public space, private properties are being affected as new developments within the central area need to be car-free, reducing even further the city's parking inventory. Driving is also going to be a difficult experience in Oslo, with lane widths in some streets being reduced to give way to wider bike paths creating a more bike friendly city.
Having a car-free centre means that the city must provide alternatives for people to move around, which includes expanding the current public transport network, creating faster and more efficient systems and improving the city's bike share system. It is also necessary to ensure that deliveries can be made to guarantee the viability of retail and restaurant activities. Although some vehicle access will need to take place within the city centre, it is not going to be a pleasant ride as drivers will have to slow down through those shared zones. There is no single magical solution for Oslo, but the city is working on a number of different directions to ensure the plan's success.
Watch the video below for further details:
Read the related articles: Strategies to reduce air pollution and No place for cars in Oslo development
Image credit: The Epoch Times and Streetfilm