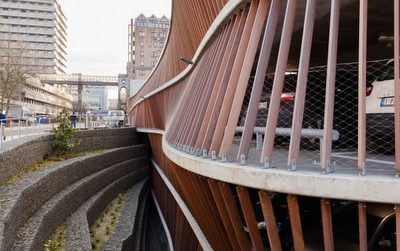 The new staff car park of the Cliniques Universities Saint-Luc hospital in Brussels is getting attention for its beautiful structure. The building, housing 985 parking spaces, has a wooden facade with a fluid undulating design to create a unique look. As reported by Web Urbanist, the architects responsible for the project were challenged to develop an impacting building that would serve as a welcoming point of the hospital without disregarding the car park's functional purpose.
The design incorporates natural canyons to allow daylight and air to reach the lowest levels, resulting in a sinuous look. In addition, the architects included a functional green area on the roof which results in a pleasant view to look at from the adjacent hospital building. Click on the image gallery below to see this amazing car park:
Considering staff parking charges are quite low, it is interesting to see that investments of this nature are being funded regardless of the long pay back period.
Image source: Web Urbanist