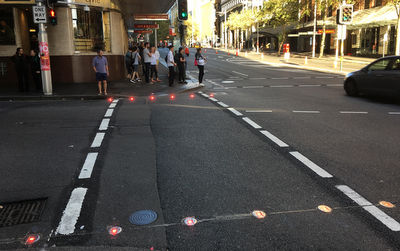 A trial of in-ground traffic lights is being conducted by the NSW state government to reduce accidents involving pedestrians, especially those addicted to their mobile phones. In-ground traffic lights were installed at the intersections of Pitt and Goulburn streets, and Hay and Dixon streets, as reported by SMH. The lights turn red to signal pedestrians to stop and are turned off when the pedestrian crossing signs at nearby poles turn green.
Melbourne is also aiming to get the attention of distracted pedestrians by a one-year trial at one of the city's busiest intersections for foot traffic. Four sets of flashing lights were installed at the corner of Swanston Street and Little Collins Street. Differently from Sydney's scheme, these lights turn red and green to signalise when pedestrians can or cannot cross the road.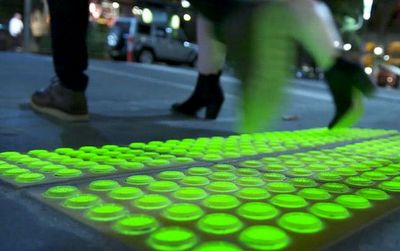 Other countries as Germany and the Netherlands have similar initiatives as a way of trying to keep those distracted by their smartphones safe.
Image Source: Henry Li and The Age