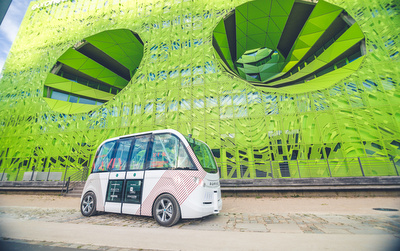 Driverless vehicles may be soon integrated to the transport landscape and part of our everyday life. After the launch of RAC's autonomous shuttle bus in Perth last year, exciting news come from South Australia in this area.
Adelaide Airport intends to have driverless shuttles operating between the airport's long-term car park and terminal. Last month, the $2.8 million trial was one of the projects selected to receive a share of South Australia's Future Mobility Lab Fund.
The airport will receive $1 million from South Australia State Government to test three electric autonomous shuttles. According to Adelaide Airport Managing Director, Mark Young, "their compact size and agility will enable them to operate on a dedicated path at an increased frequency, potentially operating 24 hours a day, reducing road congestion and significantly lowering carbon emissions".
Flinders University's collaboration with Royal Automobile Association of South Australia (RAA) for the $4 million driverless shuttle trial will also receive $1 million from the State Government's fund. Students will be involved in the three year project and eventually the tests will be open to the public. "The trial will include the development of a mobile app that will allow people arriving by bus or train to arrange for a shuttle to meet them and deliver them quickly and conveniently to their final destination on campus", says Flinders University Vice Chancellor, Professor Colin Stirling.
The autonomous shuttles are a last mile transport alternative that could be implemented in different situations, as both these projects demonstrate.
Photo Credit: Navya