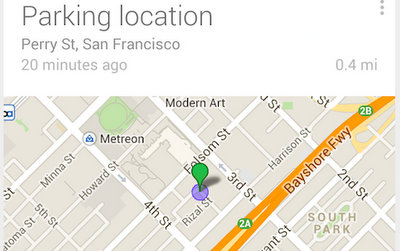 Losing sight of one's car happens all the time, and not just to the memory-impaired!   As reported in The Verge, Smartphone users can easily avoid the problem thanks to a recently added feature in the Google Now suite.  The latest update takes the popular map app one step further, producing a "parking card" to remind you precisely where you parked, and then guides you back to your vehicle using its navigation system when you are ready to return.
Sensors in your phone will detect when you leave a moving vehicle and mark the spot for you.  Because the app can't distinguish between getting out of your car versus your friend's car or public transport, you may get a few unnecessary "parking cards", but you can disable the app when you don't need it.
You must inform Google Now that you are a regular driver for the app to work properly.  If you'd like a bit more info on setting it up, visit C-net.