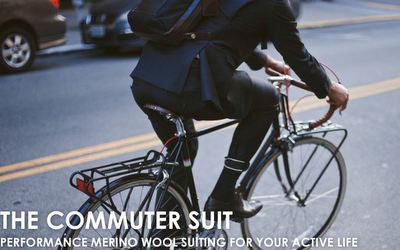 For cyclists, the home to office commute will now be even more efficient, with the latest business suit technology available from the US.  Using Australian 135 Performance wool (breathable, moisture and odour resistant, and a little bit stretchy), San Francisco-based company Parker Dusseau has designed the "Commuter Suit".  It is designed to move like cyclists move, and get you to work in style.   Cyclists can also avoid wasting time changing out of their normal riding gear, which particularly useful for those without a proper End-of-Trip Facility!
Featured recently in the Executive Style section of the SMH, the suit will set you back about $730 USD (free shipping even to Australia!) It is laden with special features including a gusset in the crotch, rubber in the waistband which helps keep your shirt tucked in, buttons to secure your rolled-up pant legs, breatheable mesh lining in the jacket, and reflective strips under the collar and cuffs that are revealed when you roll them up.  Of course, specially designed business shirts with flexible shoulder seams are also available to complete the outfit.
At the time of the SMH article, Parker Dusseau was offering 20% off your first purchase if you sign up for their Newsletter.