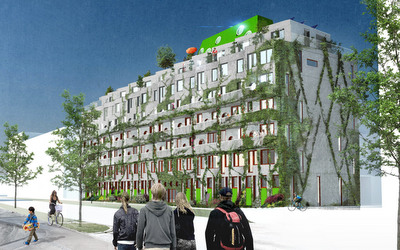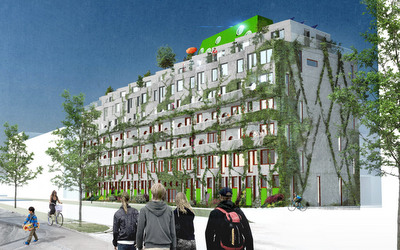 Following the development of the Oslo Solar , a commercial building in Norway that has no car park and 500 parking spaces for bikes, known as the "bike apartments", the Cykelhuset, or "bicycle house",  will open in Malmö, Sweden this December being the country's first residential development with no car park spaces as reported by CO.EXIST.
To bypass the City's minimum parking requirements, the developers needed to invest in solutions for residents to enjoy a car free lifestyle. The fact that the building doesn't have a car park is not the innovative element here, the included features to increase the convenience for non-car owners is the interesting part.
The designers considered situations where people would normally need a car and came up with solutions to substitute for car ownership. For instance, shopping can be very inconvenient without a vehicle, unless you are shopping online. So, Cykelhuset's residents have oversized mailboxes to accommodate large deliveries.
The building also has a fleet of cargo bicycles available for borrowing which are big enough to transport small kids to school accommodating several children at the same time in large pull-along sidecars. The building elevators were also designed to accommodate the use of cargo bikes, so they have adequate dimensions and open on both sides to avoid manoeuvring the bicycle in the hallways.
The development is located, close to the city centre and the central station. Commuters can borrow foldable bicycles for their daily journey to work. For those who own their bikes, there is bicycle parking downstairs and in front of each apartment and the units' are designed to easily fit bikes inside. The building also offers services through a "mobility subscription" including carpooling, credits to use bus or train and bike repair.
Those visiting Malmö can get a taste of the Cykelhuset living style by renting one of the 31 lofts on the first floor of the seven-storey building, which will be available for overnight stays. Guests can also rent bicycles from the building's management and enjoy the full experience of Cykelhuset.
Find out more about the building and the bike culture in Malmö by watching this video made by StreetFilms:
Image Credit: OHBOY! And StreetFilms