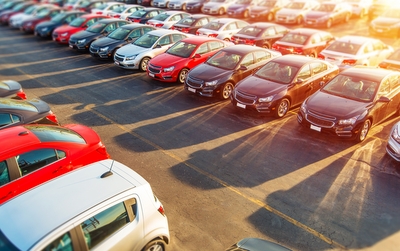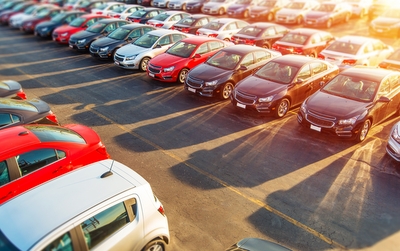 The University of California, Berkeley's Transportation Sustainability Research Center (TSRC) continues to research the impacts of car sharing. In August we posted about the positive impacts of car sharing in five cities in the USA and Canada, considering data from 9,500 Car2Go members. The new study focuses on car sharing in North American college and university campuses and this time the researchers investigated data from Zipcar members.
Campuses around the world face similar issues with traffic and lack of parking spaces. Susan Shaheen, co-director, UC Berkeley TSRC, points out that "this first-ever study of Zipcar car sharing on college and university campuses shows that implementing an on-campus car sharing program can help to alleviate these concerns and improve the well-being of students, faculty, and staff, providing greater accessibility and mobility without the burden of circling for a spot, feeding a meter, or obtaining a permit."
The research surveyed 10,000 university and college students and staff members, with 90% being students. The results demonstrate that the car sharing programs have a potential of reducing the demand for parking on campus. For instance, the majority of Zipcar users don't own a car (82% of students and 66% of the staff/faculty). Also, more than 40% are less likely to buy a car due to the car sharing service.
In addition, for 70% of car sharing users, the service improved their life quality by giving them accessibility and flexibility. Members usually drive a Zipcar to do their grocery shopping, errands and out-of-town trips. From a financial viewpoint, two in five members said that they saved money on transportation after joining Zipcar.
Zipcar members are also more likely to use different modes of transport. Almost 60% of the members use public transport at least once a month, and around 80% are biking and walking the same amount or more after joining the car sharing membership.   These findings indicate that the mobility issue in a campus environment is not solved looking at one aspect, it is necessary to develop a strategy comprising different modes of share and alternatives for students and staff. However, the study suggests that car sharing programs can be one important piece of the plan.
Click on the image below to view the infographic of the research findings.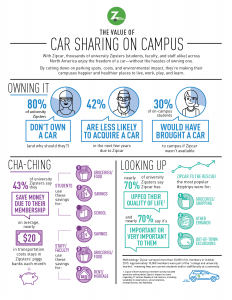 Image Sources: Image bank and University of California, Berkeley's Transportation Sustainability Research Center