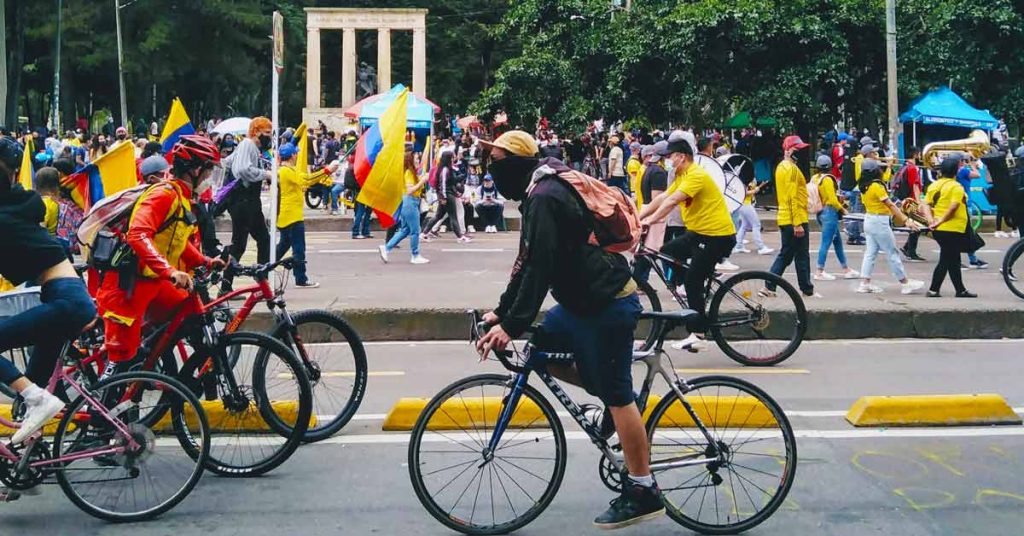 When we think of pedestrianisation and cycling initiatives, our minds often go to European cities. Oslo, London and Paris have their share of articles on their innovative policies to reduce traffic congestion and pollution.
Recently, an update from South America popped up on our news feed – Bogotá's case study on urban mobility.
Cities in South America – and in the 'new world' in general – have a distinctly different structure from European cities, as they were not built around an established walkable historical centre. To retrofit a walkable network into these cities is a tougher task. Bogotá managed to get excellent results with a limited budget and that's what makes it such an interesting example.
What has been happening in Bogotá?
Bogotá's love affair with cycling began in 1974 when La Ciclovia, car-free streets on Sundays, was launched. Over the years, the city has expanded and integrated its cycling network and since the 2000's has invested in public transportation. All the efforts had a focus on creating a more sustainable and equitable transport network through a multimodal approach.
More recently, the city leveraged the initiatives implemented during COVID and launched a series of new programs to improve access and move towards a more sustainable city:
TemBici – first bikeshare system in the country with 3,300 bicycles and 300 stations. The system uses the same card as the public transport and provides discounts to low income users.
La Rolita – a public bus company that extends the transport network.
Blocks of Care – provision of care infrastructure to redistribute the responsibilities of care of people with high needs of support.
E-buses – a fleet of 1,485 electric buses.
Cycling
On top of having one of the largest cycle networks of the world (593km), Bogotá has one of South America's largest ridership at 8%. During the pandemic, the government decided to invest in cycling as a safer alternative to public transport. They quickly implemented 84 km of emergency cycle lanes, which were often located next to bus rapid transit (BRT) system routes. During this time, ridership rose to a peak of 14%. After the pandemic, 34km of the pop-up cycle lanes became permanent.
On Calle 7, for example, 17.7km of pop-upcycle lane was implemented. The number of cyclists on this road during peak hours went from 35 to 1,800. Calle 13, received 3.6km of cycle lanes and one in three vehicles on this road is now a bicycle. These successful outcomes show the impact the prioritisation of cycle lanes had on the city. More specifically the cycling infrastructure benefits the low-income population who cycle more frequently to access employment and services.
To further incentivise cycling, the first bikeshare system of Colombia, TemBici, was launched in 2022. TemBici has the audacious goal of becoming the most diverse bikeshare system in the world. The fleet of 3,300 bicycles are designed to have low horizontal bars and facilitate their use for people with different mobility needs, gender and age. Furthermore, the fleet includes 150 hand bikes, 150 cargo bikes and 150 bikes with child seats.
Public Transport
In 2005, Bogotá implemented TransMilenio bus rapid transit (BRT) which was an innovative system in terms of service delivery and infrastructure design. Today, TransMilenio has grown and was expanded into the Integrated Public Transport System to  incorporate other transport modes. Recent initiatives included the opening of a cable car system and the construction of a metro.
In terms of the bus infrastructure, the city is now moving towards electrifying its fleet. It already has the greatest number of electric buses in use by a municipality outside China.
To allow for a fast expansion of its e-bus fleet, the city implemented a new bidding model separating the operation from the provision of buses. This was needed due to the different cost structure between petrol and electric vehicles, the latter has a higher upfront costs and lower maintenance cost.
The bids were put to market at the same time and operators needed to indicate their preferred supplier. In this model, the negotiations between operator and supplier were conducted in advance and with little intervention of TransMilenio administration.
Bogotá also launched a public owned bus company, La Rolita, which adds an alternative service when there are issues with the private operators and increases the government bargaining power for future negotiations.
As the city aims to foster gender equity throughout its initiatives, La Rolita has a program to encourage and train women to become bus drivers for the company increasing employment opportunities in a male dominated industry.
Walking
Bogotá has a high number of traffic crashes and fatalities. According to a 2019 survey, 1,200 people under 15 years old are injured and 12 die each year in traffic accidents.
The city's efforts to reduce those numbers include the Vision Zero program. Launched in 2017, the program focuses on reducing speed limits and increasing enforcement. With Phase 1 was launched in 2018, and, in 2019, saw a decrease in deaths by 21%, followed by a 28% fall in 2020.
Specifically, to increase safety for children who walk to school, the Kids First program was created aimed at low-income children. The initiatives include walking and cycling to school in groups to achieve "safety by numbers".
In parallel to that, the city has been revitalising public space through a program named Barrios Vitales. The program intends to improve walkability and allow residents to reach essential services within less than 30min walk or bike ride. The city aims to implement 33 Barrios Vitales until 2024.
Another program that contributed for the walkability of the city is the Bogotá Cielo Abierto, which activated public spaces such as parks, squares sidewalks and roads after the reopening of local businesses following the pandemic lockdowns.
Private vehicles
The efforts to change the mobility landscape in Bogotá included policies aimed at reducing private car usage. Pico y Placa a road space rationing that establishes the days in which vehicles with ending on odd or even numbers can be driven, was remodelled.
In an effort to avoid wealthier populations buying a second vehicle to bypass the rules an increased investment in public transportation, the Pico y Placa Solidario was created. Through this policy, drivers can buy exemptions to Pico y Placa.
Pico y Placa Solidario prices depend on vehicle emission levels, its commercial value and where the vehicle is registered. It costs more for vehicles that are more pollutant, more expensive and registered outside Bogotá. High occupancy vehicles, with three or more people, are exempt of Pico y Placa to encourage car-pooling and to provide an alternative for people who cannot afford buying the exemptions.
The money raised from Pico y Placa Solidario is invested in improving the public transport system.
Inclusion
Bogotá has committed to become more gender inclusive. In addition to adding gender perspective to various policies, the city created the program Blocks of Care. The program aims to improve care infrastructure.
There is an inequality in women's access to employment opportunities and transportation services, especially in low-income households. These two factors increase the income gap and women's exposure to road safety risks.
Observing that gender roles impact women's interaction with the city and services and the fact that most caregivers are women, the city created a system called District System of Care. The idea is to distribute the care of people who require high level of support (young children, elderly and people with disabilities) between the state, private sector, communities and households, reducing women's load.
Anchored around neighbourhood facilities and with an 800m radius of influence, Blocks of Care are a series of initiatives and programs to support caregivers. The goal is to reach 20 blocks by end of 2023 and 45 in total for the initial phases of the program.
Future
Bogotá is the only city in South America which declared climate emergency in December 2020. This resulted in the net zero emission mobility target by 2050 and a 50% reduction on greenhouse gas emissions by 2035.
An integrated approach continues to be the focus of the city to achieve its emissions targets and new programs will arise to promote further changes. Bogotá intends to create Green Corridors which redistribute the road space. The development of the Green Corridor at Avenida Septima, for example, proposes significant change in the distribution of the space between road users. The corridor will be designed to give 50% of the road space for pedestrians (widening footpaths and adding plazas), 6% for cyclists, 29% for public transport and 15% for private cars. Currently, private cars share 50% of the space on this road.
Bogotá shows that to promote change and improve urban mobility it is necessary to adopt an integrated approach.