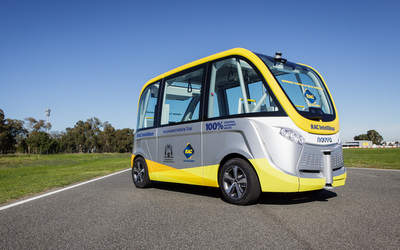 Last week RAC started the on-road test stage of the first autonomous and electric shuttle bus to operate in Australia. The RAC Intellibus trial is happening in South Perth and includes tests with passengers. The shuttle can carry 11 people and will travel at an average speed of 25km/h with the possibility of achieving 45km/h.
The goal of this test stage is to analyse the vehicle interactions with other drivers, pedestrians, parkers, traffic lights and signs in a complex traffic condition. The vehicle has been tested since April with two different phases in controlled conditions, firstly on a closed location and now on public roads.
According to RAC Group Chief Executive Officer, Terry Agnew, the tests will help the government authorities to evaluate the changes needed to incorporate self-driving vehicles in the WA traffic scheme. "We anticipate this first step in exploring driverless technology will start a conversation on further trials, research and collaboration, which will increase WA's understanding of how driverless vehicles can integrate into our transport system", said Mr. Agnew.
A survey of Western Australians was conducted to verify their opinion on driverless vehicles in general not just regarding autonomous shuttle buses. The results indicate that a great portion of the population has positive feelings towards the new technology:
46% think it will result in less traffic congestion.
70% believe it will give more freedom and independence to the ageing and those with mobility difficulties.
53% think it will result in fewer car crashes and reduce severity of crashes.
60% said it will mean daily travel time can be used more effectively and productively doing other activities.
To participate in the RAC Intellibus trial stage is necessary to book online. Find out more here.