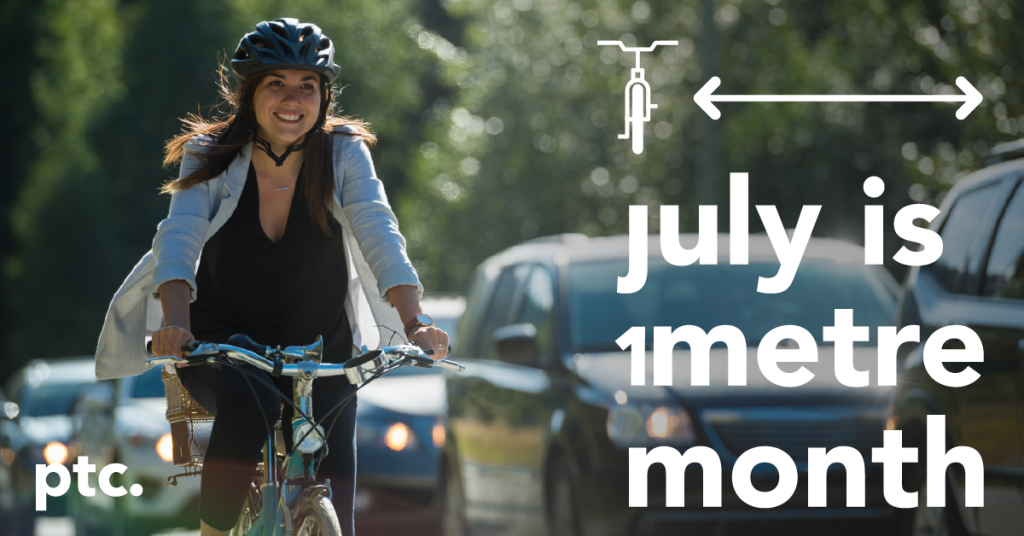 Managing Director of ptc., Andrew Morse is launching #1MetreMonth in July to increase awareness of the Minimum Distance Passing Laws.
Statistics show the law is rarely enforced on New South Wales roads since its introduction in May 2018. The law states that when passing cyclists, drivers need to allow a minimum distance of one metre (or 1.5 metres in speed zones over 60km).
According to data from NSW Government Revenue, during the 2019-2020 Financial Year, only 45 fines were issued to New South Wales drivers who did not comply with the minimum safe passing distance.
As a comparison, during the same period, 6,587 fines were issued for failure to wear seatbelt, 15,432 fines for illegal U-turns and 23,276 fines for failure to stop at stop signs.
The low number of fines is not consistent with Andrew's observations:
"I commute to work everyday on my bike, using cycle paths and mixed traffic. Everyday I see vehicles disrespecting the one metre rule and putting bike riders at risk", says Andrew.
"How can I professionally advocate for active transport links in a boardroom when the safety of cyclists is still at risk on our roads?"
One metre minimises the risk of the cyclist being hit from behind which poses the highest risk of cyclist fatality.
To raise awareness on this matter, Andrew has decided to share his experience – and collect others' stories – during the month of July. That is how #1MetreMonth was born.
Andrew aims to promote a space for healthy discussion on cycling and existing government initiatives and gather community opinion on cycling are some of the other objectives of the campaign.
Join us!
Share your story on social media using the #1MetreMonth or through the comment section on our blog.
____________________
Andrew Morse, Managing Director of ptc., is a Traffic Engineer with over 25 years' experience in the industry. Andrew is a member of the Australian Institute of Traffic Planning & Management (AITPM) and is a co-author of the AS2890 suite of Australian Standards representing Parking Australia.
As an experienced cyclist, Andrew has been through many of the challenges and joys of cycling. He is ready to share his technical knowledge and practical experience on the matter.