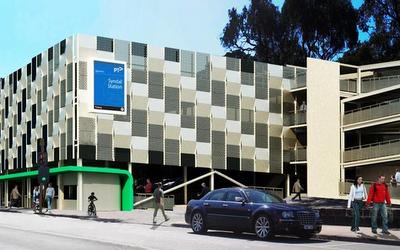 Is building multi-level car parks at train stations the best way to encourage the use of trains by commuters?
This question was presented in a recent article in the Melbourne Age, whereby Metro (Melbourne's rail operator) proposed to build a multi-storey car park at some of Melbourne's busiest railway stations and potentially charge commuters to park there.
The thoughts behind this idea stem from the belief that multi-deck car parks at stations would encourage more people to take the train to work instead of driving, and increase public transport revenue.  Metro further explains "that parking shortages at suburban stations discourage too many people from using public transport and opportunities to expand parking at ground level are rare and often prohibitively expensive".    The RACV endorses the idea, arguing that more parking "is an absolute key to increasing patronage".
However, Public Transport Victoria (PTV), was not so enthusiastic about following this advice.  A spokeswoman said, "the priority was to maximise ground-level parking first.  There were no plans to introduce paid station parking".  She continued "car park construction is expensive and we want to find the most cost-effective solutions using existing land".  PTV are keen to explore drop-off zones, connecting buses and secure bicycle parking.
The Andrews Government has committed $20 million for new car parking spaces at stations across Melbourne, using government land.
Our Senior Traffic Engineer, Eng Hwa Lim, is doubtful that building a multi-storey car park next to a train station is going to the best investment option to encourage a rise in commuter numbers on trains.  As we know, multi-storey car parks are expensive to build.  For instance, the car park currently under construction at Melbourne's Syndal Station is costing $10.8 million, which equates to $43,000 per space.  And parking there will be free.
Another reason to question the feasibility of building multi-storey car parks, according to crikey.com.au, is that "most peak hour train travellers are heading to and from the CBD and they are not going to abandon their car simply  because there is more parking available at the local station".
Eng Hwa suggests one potentially workable alternative (which would generate a much lower traffic and environmental impact) is to enhance the coverage of feeder bus services to residential areas that are too far from a rail station to walk there..  Another approach would be to recoup the investment through a mixed land use development on the parking site.
Eng Hwa continues with a very important point, being that the final decision on the best option "would depend on the catchment of the particular rail station and its socio-economic and demographic factors, as well as existing bus services already in place".  Each situation should be carefully researched on a case by case basis.