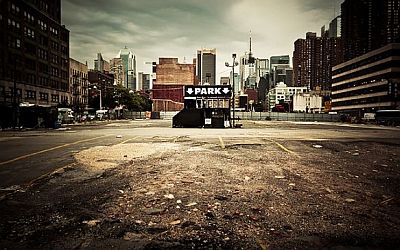 Photo Credit: Stefan Georgi/Flickr
With New York City facing increasing pressure on housing affordability, the NYC based Institute for Public Architecture called for creative ideas and solutions for affordable housing.  One of the most intriguing ideas came from fellows of the Institute Sagi Golan, Miriam Peterson and Nathan Rich, which targets the abundance of parking lots attached to the city's Housing Authority sites.  New York City has more than 20.3 million square feet (1.88 km²) of these types of parking lots.
The project has been named"9×18" after the standard dimension of a parking space.  The idea behind the project is to consolidate the actual parking spots required by residents and develop micro affordable housing units which would take up the space of two parking spots. The abundance of parking spaces correlates directly with minimum number of parking requirements mandated for developments and off-street parking required for new residential units.
Project "9×18" also seeks to replace mandated parking lots, by instead banking parking into centralised hubs called PiYNs (Park in Your Neighbourhood) within communities around the city.  The call for PiYN hubs has been supported by a recent household travel survey conducted in the most densely populated areas of the city.  Around half of NYC residents live within a ten minute walk of a subway or rail station.  The survey found that 84% of households who owned a car used it for errands, while only 42% used their car to get to work.
Read more on the project here