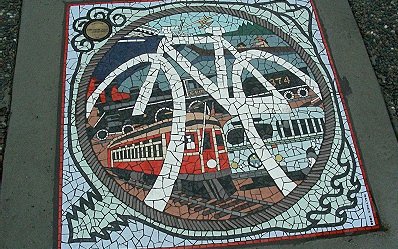 Following on from our Vancouver Promotes Active Transportation story, we were pleased to see a post recently from The Urbanist, 'How Does Sydney Compare to Vancouver on Travel'.
Vancouver and Sydney are often grouped together when it comes to comparing cities around the globe.  Built upon opposite shores of the Pacific Ocean, residents of both cities lead a very active, outdoor life.    Vancouver also ranks in the top ten cities, as does Sydney, in the Economist Intelligence Unit's Liveability survey.
However, Vancouver is often referred as a city that "does transport and planning right", according to Alan Davies. A recent report released by the City of Vancouver, shows that combined methods for sharing trips from public transport, walking and cycling increased from 40% in 2008 to 44% in 2011.  These methods of travel are obviously becoming popular and the preferred method of transport for the residents of Vancouver.  The City of Vancouver hopes to increase these methods of travel from 44% to over 50% by 2020.
These figures inspired Alan Davies, from the Urbanist, to look at what is happening in Sydney.  Davies looked at the mode share number for Sydney's 11 inner city municipalities and created the  table below based on the NSW Bureau of Transport Statistics for 2012/13 Household Travel Survey.    Based on this table, Sydney is doing well.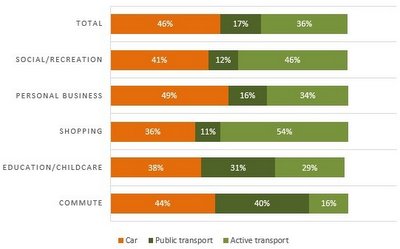 The highlight of the table is that public transport and active transport (i.e. walking and cycling) together account for 53% of all trips in inner Sydney in 2012/13.
The table also shows the different uses of transport for more important trips in Sydney. The percentage of trips via public transport and active modes is 65% for shopping and 60% for education and child care; even for commuting it's 56%.  Policy-makers should note that cars are used for a minority of trips in inner Sydney.
Whilst Alan Davies has only looked at 11 inner city municipalities in Sydney, his sample size presents a picture that Sydneysiders would perhaps choose other methods of travel, if the option was available.  Residents of these 11 inner city municipalities are certainly choosing walking, cycling or public transport as their preferred option.  A big tick to these residents.