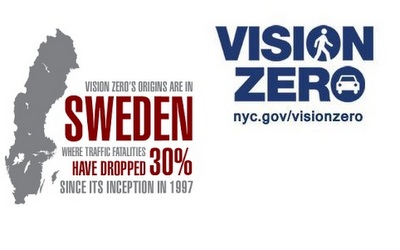 What do Stockholm, Rotterdam and Berlin have in common?  They are all involved in Vision Zero, aspiring to road safety at its best.
The Vision Zero concept first originated in Sweden in 1997.  Swedish parliament adopted it as their official road policy.  The central theme for Vision Zero is to reduce all traffic fatalities and severe injuries to zero by 2020, whilst at the same time increasing safe, healthy, and equitable mobility for all.
US based, Leah Shahum, is leading the charge for America to adopt the Vision Zero strategy.  Launched earlier this year, NYC Mayor Bill de Blasio was the first to join the program announcing a Vision Zero goal of eliminating traffic deaths and injuries in the New York City.
PTC follows Leah Shahum on her research trip to Stockholm, Rotterdam and Berlin where she looks for the common features of the three cities' approach to road safety.
Shahum highlights five key areas of focus:
1. Managing speed is a top priority
Policy makers in all three countries agree that managing speed is the number one priority for improving safety.  This has not happened overnight, but has been part of their long term planning, for at least the past 15 years.  Speed limits are set depending on the importance of a road, the kind of users and the mix of users on a particular road.   If a road is being used by walkers, cyclists and drivers, that road would have a lower speed limit to reduce the impact of any accidents.
For example, in the Netherlands speed limits have been lowered as follows:
50 km/per hour to 30km/per hour on smaller, residential streets
70 km/per hour to 50 km/per hour on larger roads
100 km/per hour to 70 km/per hour on freeways
2. The key to success is street design
A common theme for these three countries, Sweden, Netherlands and Germany is the "high level of attention toward re-designing the physical layout of streets for the safety of all users", according to Shahum.  Whilst the specifics may differ between countries, planners all highlight the need for investment in safer street design.  Options include addition of more roundabouts to slow traffic at intersections, and a greater need for separation between cars and bicycles on roads with larger volumes of traffic and higher speed.
3. Engagement with the Private Sector
What is interesting to note is the relation between the public, government and private sector in relation to road safety.  In Sweden, the Netherlands and Germany there is far more discussion and investment from automobile companies, insurance companies and other related private sector corporations.    For instance in Germany and Sweden, insurance companies invest significant resources into traffic safety research.  This can only be a positive step for insurance companies, as they assist with road safety, which at the end of the day impacts on their own risk and reduces payouts related to collisions and injuries.
Another proactive approach noted is that Swedish Insurance companies piloted a system of installing speed measurement capability in the cars of some insurance policyholders.  Those drivers were then, in-turn, rewarded with lower premium payments if they stayed within the speed limits.
4. Engineering investment vs education and enforcement
Shahum refers to the three E's in creating safer streets.  Engineering, Education and Enforcement.  Whilst educating the community on road safety is important, as is enforcement, these efforts have not received the same priority as street design when it comes to road safety in the Netherlands, Germany and Sweden.  The impact of education is particularly hard to assess, as the impact isn't as clear as speed management and changes to street design.
Future direction: Vision Zero 2.0
Whilst Swedish policy-makers have historically placed emphasis on enhancing automobile technology systems and improving design on rural roads, their plan for the future is to place a greater focus on urban areas and safety for people riding bikes and walking. Meanwhile, the Dutch are approaching 'sustainable safety' with a fresh look.  They are reflecting and analysing what has worked and which measures need updating. One thing is for certain both Governments hope to form even stronger alliances with the private sector.