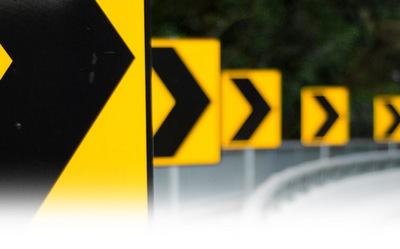 Australia has joined other countries with ambitious long-term goals for road safety. According to The Age,  with "a national 10-year road safety strategy, published in 2011, aims to reduce Australia's road toll by 30 percent by 2020".   In the previous decade (2003-2013), the overall road toll has been reduced by 25%, but a recent review of the strategy reveals the areas where Australia is falling short in its efforts to reduce road accidents, particularly those involving motorcyclists, cyclists and pedestrians.
The following graph demonstrates this failure to improve safety for the most vulnerable road users.  It was published earlier this year as part of a major review by AustRoads, the national body that set road standards in Australia.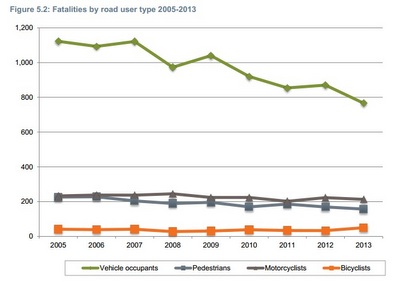 According to AustRoads, if Australia is to succeed in reducing the road toll for all groups, we must take a more radical approach.  The focus of "blaming the driver" must shift.   According to the report, more effort must be made to build a "safe road system" that reduces accidents.
What is even more alarming is that according to Professor Johnston, from Monash University Accident Research Centre and previously a Director at VicRoads, "more than 1000 people die on the roads each year, while tens of thousands are admitted to hospitals".  According to Professor Johnston, "analysis of the hospital data showed the rise in serious injuries was largely due to substantial increases in the numbers of injured motorcyclists and cyclists".
Australia has been slow to deliver safer roads for all, "but we get away with it by blaming the driver", reports Johnston.  Is the community expected to sit back and watch these numbers rise?  Maybe it is time for Vision Zero to launch in Australia.