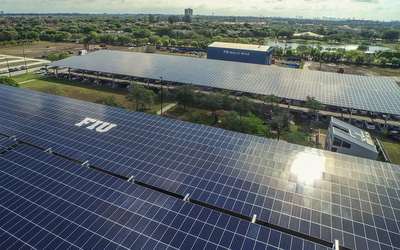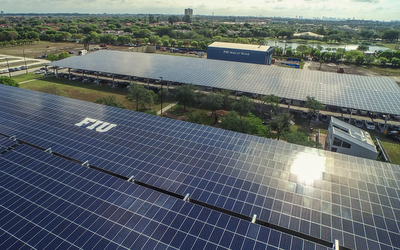 PTC has been following the news of solar car parks since 2010, and their incidence is steadily increasing. Last month, Florida Power & Light (FPL) announced the installation of a new commercial-scale solar array in one of Florida International University's parking lots, as reported by the Miami Herald.  The difference is that this solar parking lot is also a research facility for the students of the University's Energy, Power & Sustainability program.
The 1.4-megawatt array has 4,400 solar panels and can provide enough energy to supply 250 homes. The installation of recorders under the coverage of 400 parking spaces will provide real-time data to the university's lab. This will enable the researchers to observe fluctuations of solar power in order to discover how to make its use more efficient.
The researchers aim is to understand how weather variations, such as cloud cover and seasonality, can affect solar energy generation. This will lead to new designs that better manage these factors, increasing the reliability of solar power production. The engineering students will also explore the impacts of solar energy provision on the South Florida electric grid.
FPL states that finding solutions to increase the reliability and reduce costs of solar power is essential to the spread and adoption of solar power. According to Arif Sarwat, Director of the University's FPL Solar Research Facility, "unless we know how much it generates, how much you generate in five minutes or an hour, the value goes down".
In local news, Australia's largest solar car park will be installed at Westfield Marion shopping centre in Adelaide, according to Origin, the company designated to complete this project. The array will cover 240 car spaces and will have the capacity to generate 647.73 kW. The installation will surpass the Pines Elanora Solar Car Par, in Gold Coast, a 636kW system that covers 200 car spaces.
Photo Source: Florida International University