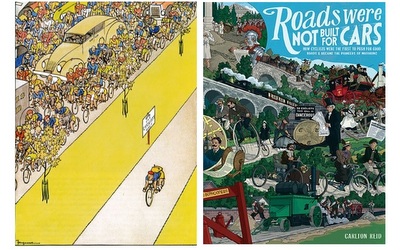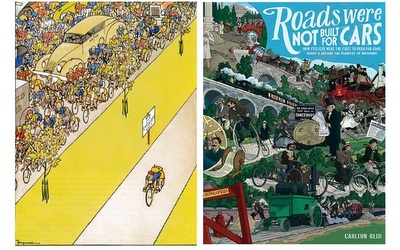 Separate cycle paths or fully integrated with roadways?  These early debates of the 1860's till mirror the discussion today.
A recent article posted on Sustainable Cities Collective, explains that roads were not built to cater specifically for cars.  Modern day commuters assume that roads became the way they are today, because of the infrastructure required for the demands of owning a car.
However, Carlton Reid, author of Roads Were Not Built for Cars, explains that infrastructure for bicycles and tricycles provided the foundation for a road system which over the years became dominated by automobiles.
Reid explores the influence of early cyclists on roadway development, but highlights, even before the introduction of motor vehicles, roads were built for pedestrians.  What is interesting to note, is that roadways first started out as public space.  Wide roads were not just built for cars, but to increase the ability to control social gatherings and protests, explains Reid.  Reid refers to a scene in Les Miserables, where narrow roads were used as crowd control – they are easier to throw up barricades.  Over time as the demand increased, these spaces became segmented as "mine" and "yours", which led to policy makers instigating roadway behaviours and laws, ultimately leading to planning and design concerns.
Motor cars came to dominate our lives not by design but by default.  According to Britain's Automobile Association, cars cannot be fully enjoyed or used to their potential, not only because of congestion, but inadequacy of the road infrastructure.  Reid further comments, those cars in rush hour London creep along at 9 miles per hour (14.5km), an average speed not much greater than a horse drawn carriage in the 19th century.  How is that progress?