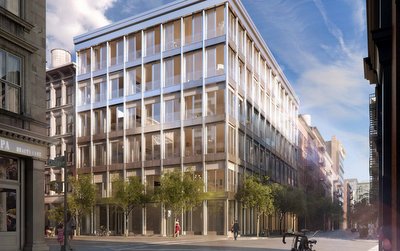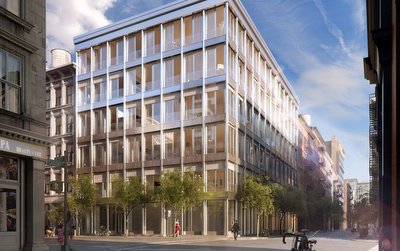 Trendy SoHo in New York City is in the news for setting a record asking price for a parking spot.  The new project at 42 Crosby Street was a former parking lot and is now being developed into 10 luxury apartments (architect Annabelle Selldorf's rendering above), as reported in the NY Times.  With apartments priced between $8.7 and $10.5 million, a parking space will be an optional extra, with a price tag around the $1 million mark.  Offered on a first-come, first-served basis, the pricing is such that the space for the car is more expensive per square metre (foot) than the luxury apartments above!
"We're looking at setting the benchmark," said Shaun Osher, the founder and chief executive of the brokerage firm CORE in Manhattan, which is handling the sales and marketing at 42 Crosby. "In real estate, location defines value and parking is no exception to that rule."
Demand for Manhattan parking spaces is exceptionally strong , not surprising since the number of off-street parking spaces has declined by around 20% over the last 30 years.  Earlier this year, the 145-unit TriBeCa tower at 56 Leonard sold 25 of 28 spots which were listed at $500,000 USD each, with a waiting list for the remaining three spots being held for potential buyers of the remaining  two units.  The penthouse in this development is under contract for $47 million USD – so presumably, parking at $500,000 a spot would not have been an issue.
 Beth Fisher, a senior managing director of Corcoran Sunshine, which is marketing 56 Leonard, said: "The No. 1 amenity is parking. In the luxury market, parking is really one of the key features that distinguish one development from another."