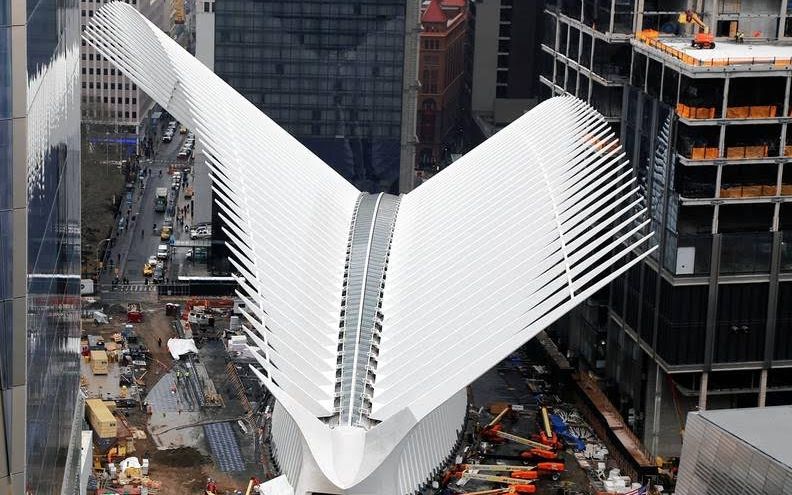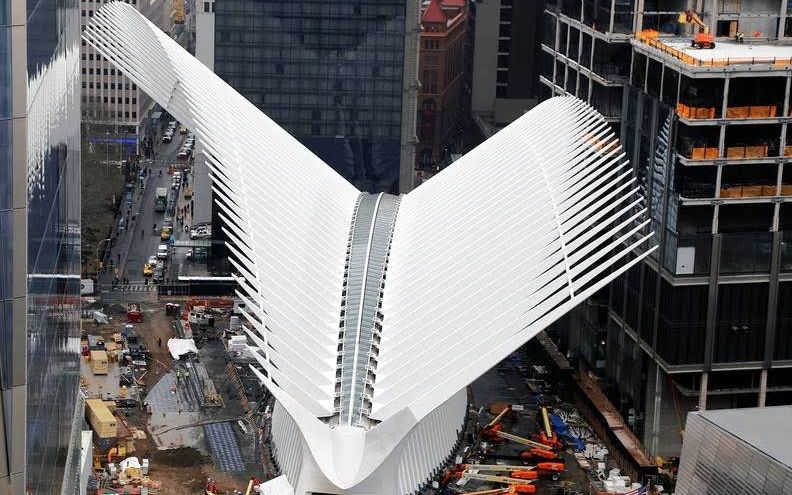 Nearly 15 years after the terrorist attacks of 9/11, and US$4 billion later, the World Trade Center (WTC) Transportation Hub has now partially opened to the public, according to businessinsider.com.au.  The Hub serves as a connection between New Jersey's PATH trains and NYC subways.
The design for the hub was first revealed in 2004.  It was projected to take five years and cost US$2.4 billion to complete, but after 12 years and a budget blowout the WTC Hub is now one of the most expensive train stations ever.
Designed by Spanish architect Santiago Calatrava, the building has been referred to as 'something from Lego's latest Bionicle range' (theurbanist), when in fact it is meant to resemble 'a dove being released from a child's hands' (ny.curbed.com).
The design aims to provide inspiration for hope and a bright future for the citizens of NYC.  The Hub is also a monument and remembrance of all those who lost their lives on 9/11.
The extravagant and lavish train station is not much of a hit with the locals as they start to understand the full cost of the project and the extent of the retail precinct which is to open, just down the block from another major shopping mall.
One observer noted that there are no services inside the Hub to pave the way for commuters.  As mentioned by Julie Iovine of, The Wall Street Journal, "The dispiriting absence of ticket machines, train clocks and maps underscores the extent to which the Hub is more a commercial than civil amenity".
Considering the station will only handle 8% of daily passenger numbers that go through Penn Station, a large portion of the community are asking the question "could the investment have been better spent on improving Penn Station, which handles more than twelve times as many passengers?"
The building is without doubt visually striking.  As architecture critic Paul Goldberger indicated "a couple of years from now, we will be hearing not about what this thing cost or about how long it took to build, but about how much people like walking through it."