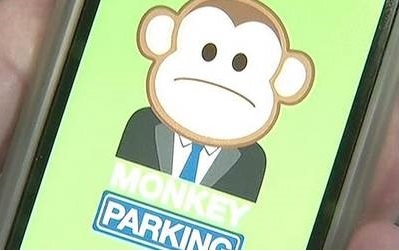 Beware: not all apps that come to market actually serve the common good, and some might even be illegal.  Italian-based MonkeyParking found this out the hard way when it was told last week to "cease and desist" operations in San Francisco or face a lawsuit.
MonkeyParking is (was) an app that allows drivers to auction off a coveted on-street parking space to another driver as they depart.  Enterprising, yes.  Legal, no.  Well, not in San Francisco anyway.
According to this report by SBS, the company issued a Blog post on Thursday, saying that they were temporarily shutting down operations in SF after receiving a letter and July 11th deadline from the City Attorney.  "We are currently reviewing our service to clarify our value proposition and avoid any future misunderstandings."  Two other similar parking apps, Sweetch and ParkModo, also received Cease & Desist orders.
On Friday, MonkeyParking CEO Paolo Dobrowolny said that his company was working with lawyers and he hopes to meet with city leaders soon, stating, "We want to operate in full collaboration with the city."
Along with many other tech sites, Techcrunch spoke out strongly against MonkeyParking and similar apps, saying that this type of application is unwelcome (that's putting it gently).  They have labelled such start-ups as "#JerkTech"–that is, those taking something that is a essentially free or a public good and trying to make money out of it.
The MonkeyParking case is the latest example of lawmakers (and consumers) grappling with new technologies that encourage people to privately acquire taxi rides, hotels, event tickets and even restaurant reservations.