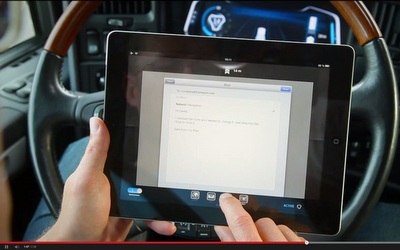 A recently announced app developed by Scania and Volkswagen Group Research purportedly will make you more productive while spending time in traffic jams.
In terms of road safety, it is hard to imagine that encouraging (more) people to use devices while driving would be a good thing.  Nevertheless, the app has won a prestigious award, the 2014 HMi (Human Machine interface) Design Innovation Award in Berlin recently.
Here's how it works: the driver encounters slow traffic, so he/she pulls up the iPad, activates the app, and then uses the same device to check a few emails, catch up on the latest news, watch the footy, or do a bit of online shopping. The car takes over steering, braking and gear changes, keeping up with the traffic flow.  The dashboard screen (and the iPad, if desired) will alert the driver of nearby vehicles and shows the speed and distance of the car ahead.  If the drivers' speed reaches 50 km/hr, the app turns off and directs the driver to resume control of the car.  As a safety mechanism, if the driver fails to resume control (definitely a possibility), the car slows to a stop.
Can you imagine this on any of our already congested roads during peak hour??  The design team claim that "drivers had the same traffic awareness as in normal driving", which may be more of a comment on what has become "normal driving" rather than whether it presents a safety issue.
Essentially, this is along the same vein as the Volvo self-driving car (subject of another recent blog) and while driverless vehicles may be the future of transport, it does beg the question — Is it absolutely necessary that we have access to our devices 24/7?  Do we really need to be more productive in traffic?  Feel free to leave a comment!
The YouTube video clip is here.