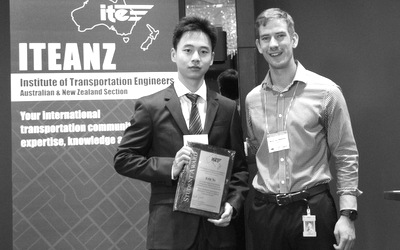 Eric Ye, Junior Traffic Engineer at ptc., received, on the 27th February 2018, the GHD Undergraduate Student Award promoted by the Institute of Transportation Engineers Australia New Zealand (ITEANZ).
Eric was awarded for his thesis: Lane Distribution Optimisation of Autonomous Vehicles for Highway Congestion Control, which he authored as part of his studies in Civil Engineering/Commerce (major in Finance) at the University of Sydney.
The paper presents a traffic control strategy to minimise congestion on highways through lane changing optimisation. The strategy was tested using microsimulation in Aimsun and presented superior performance compared to the baseline scenario and a ramp metering scenario.
We are proud to have professionals in our team who are looking into the future and seeking solutions for the transport landscape. Congratulations, Eric!
Photo credit: ITEANZ