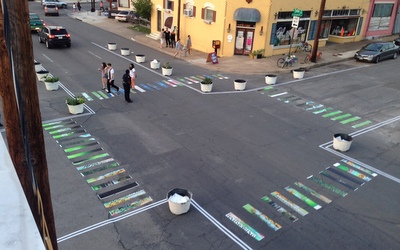 An enthusiastic group of Dallas residents recently transformed a busy intersection into a pop-up pedestrian plaza. The notable feature of the event, reported in Treehugger, was not just that they found yet another use for duct tape — the weekend event was actually an effort to revitalize a stalled community redevelopment project that had come off the rails due to objections from a local property owner.
The "Better Block" project had its very origins in this suburb of Oak Cliff in 2010, and subsequently led to the establishment of the Better Block organisation.  Better Block is an open-sourced project which provides tools and resources for communities across the US (and worldwide) interested in revitalising their neighbourhoods by building their own Better Blocks.  With cornerstone principles of Walkability, Mobility and Sustainability, they describe themselves as, "a demonstration tool that rebuilds an area using grassroots efforts to show the potential to create a great walkable, vibrant neighbourhood centre."
Oddly enough, the Oak Cliff community is still battling to secure changes to their own neighbourhood which included modifying traffic around a dangerous intersection, and the creation of a permanent pedestrian-friendly, public plaza for residents to enjoy.  Unfortunately, after making steady progress (which included public consultation, three 90-day trials, and two approvals for funding), the project has stalled due to objections raised by a property owner.  These included negative impacts on parking and existing businesses, and concerns about the management of the space.
The weekend pop-up demonstration was designed to challenge the objections and test the assumptions in real-time.  Better Block reported that more than 500 people attended throughout the day, and that there were no parking issues reported.  According to their website, the existing businesses which opened for the day enjoyed the space and its high volume, motivating them to sign a petition to keep the plaza permanent.
On a local note, Jason Roberts and Adrian Howard, co-founders of Better Block visited our shores on their "Down Under Tour" in 2013.  They presented at the Sustainability Festival in Melbourne, and kick-started a successful (and continuing) Better Block project in Geelong.