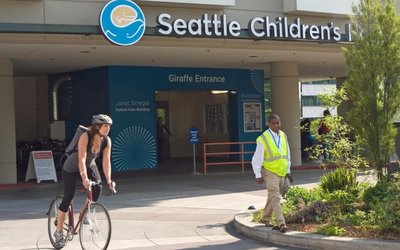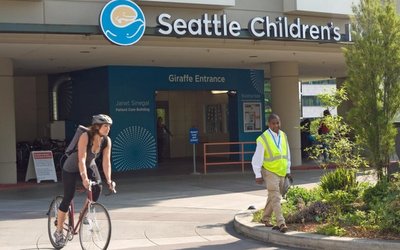 Forward thinking, planning and initiative paved the way for the Seattle Children's Hospital to develop a comprehensive Transportation Plan.    According to a well-known American blog – Streetsblog USA, The Seattle Children's Hospital is leading the way in "Sustainable Healthcare Architecture".  Launched in 2008, "the new target was to reduce the share of commuters who arrive alone by private car to 30 percent by 2028", according to Jamie Cheney, the hospital's manager of transportation systems.
Creative thinking on how the hospital's 6,000 employees arrive to work each day has paid off for the hospital.  Hospital management has implemented a variety of programs to raise the importance of travel to work and to attract a variety of employees.    For starters, the hospital offers free transport passes to all employees.  If a new employee pledges to ride their bike to work two or more days a week, they are provided with a free bike.    Not to mention access to the hospital's recently opened bike shop, offering employees free maintenance and discounts on bike gear.
Another key program the hospital has implemented is vanpool, not carpooling, as we know it here in Australia, but vanpooling.   About 35 vans serve the hospital, and "about 19% of the hospital's 6,000 employees rely on a vanpool to get to work", stated Cheney.  These vans are funded by the Hospital.
The benefits are not so good, if you decide to drive to work.  The Hospital charges daily rates for all users of the car park, depending on when they arrive and are charged accordingly for the length of time.  This could be an expensive day at work for many employees.
The Seattle Children's Hospital is already on track to achieving their goals of reducing the percentage of commuters from 50% to 30% by 2028.  For Cheney, the next step will be the hardest part to achieve, as many employees "choose to live in faraway areas due to rising housing costs in Seattle with limited or no transit access".