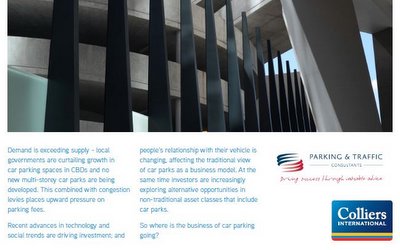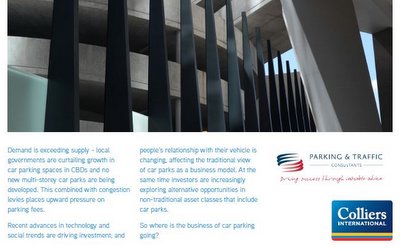 We are proud to announce the release of the 2015 Whitepaper on CBD Car Parking, a joint project between Parking & Traffic Consultants and Colliers International. The focus of this report is the changing landscape of CBD car parking and the resulting challenges and opportunities created in the car parking business.
In our CBDs, supply is already limited with few new spaces being built, while workforce and resident populations are increasing. Add to the mix the expansion of parking/congestion levies (in area and cost) and the resulting upward pressure on car park pricing is no surprise.
There is good reason that car parks are tightly held assets and attractive to investors– they represent consistent cash flow with relatively low maintenance costs. Advances in the technology around parking operations are also contributing to the reputation of car parking as an "alternative investment in non-traditional asset classes" worth considering.
Meanwhile, customers are demanding real-time information through smartphone apps, and parking (and pricing) is definitely a target. These emerging technologies also will affect some properties – but which ones are at risk, and which will seize the opportunity…time will tell!
Download the full paper here.