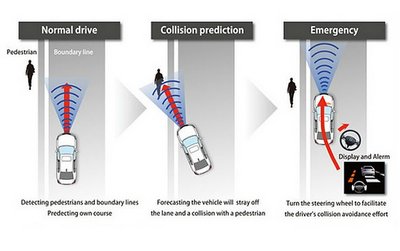 Honda has announced a new driver-assist technology which has the capacity to avoid collisions with pedestrians.  The new "Honda Sensing" will be available on the Legend in Japan later this year, as reported by Hybrid Cars.  The system utilises a millimetre-wave radar in the front grille and a camera mounted inside the windscreen to forecast collisions and allow the vehicle to make corrective action.
The new "Sensing" system is a step toward Honda's global safety objective of a collision-free society – "Safety for Everyone" –not just vehicle occupants, but anyone sharing the road including motorcyclists and pedestrians.
Other new components of the Sensing safety system will bring us a whole new dictionary of vehicle-related acronyms:  In addition to the world's first Pedestrian Collision Mitigation Steering System, we have the Collision Mitigation Braking System (CMBS), Road Departure Mitigation system (RDM), Lane Keeping Assist System (LAKS), Adaptive Cruise Control with Low Speed Follow (ACC), Traffic Sign Recognition, False Start Prevention Function, and Lead Car Departure Notification System.