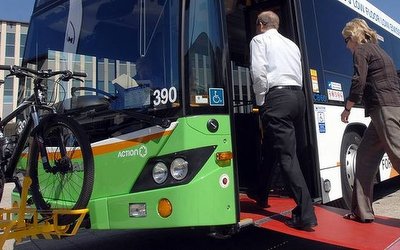 The introduction of paid parking in the Parliamentary Triangle has finally moved Canberrans to leave the car behind and utilise the bus network, reports the Canberra Times.  The change was introduced in order to increase the number of spaces available to visitors to the national institutions ( e.g., National Gallery, National Portrait Gallery, Old Parliament House, the National Museum and Questacon).
According to figures released by Territory and Municipal Services Minister Shane Rattenbury, the first week of paid parking saw average daily bus trips increase by 797 to 4387 trips per day.  Latest figures show an average of 5122 trips, which represents an increase of 43% on August figures.
Paid parking commenced in Parkes, Barton, Russell and Acton on Wednesday 1 October 2014, with charges set at $2.50 per hour or $12 per day, with 5-day tickets available at $57.50.  While that might sound quite reasonable compared to Sydney and Melbourne prices, it's been a big adjustment for public servants who always have enjoyed free parking.
Canberra is actively encouraging alternative methods of getting to work – public transport, bicycle, walking and ride share, or combinations like Bike and Ride (80% of buses are fitted with bike racks).   The ACT Action bus services have been expanded in preparation for the change.
"There have been a range of improvements to ACTION in recent times, with new buses, the introduction of NXTBUS (real-time bus info) and upgrades to a number of bus stops," Minister Rattenbury said.  "For those who haven't given it a go yet, I would really encourage them to try it out."