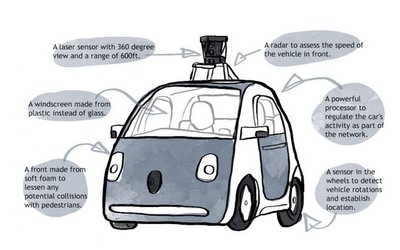 The Globe and Mail (Vancouver) reports on a recent TED Talk regarding Google's driverless car program.  The man behind this program, Chris Urmson (Google's Director of Self-Driving Cars) declares the technology designed to remove humans from the driver's seat will be available within the next five years.
Urmson remarks, "we've made some pretty exciting progress and at this point we're pretty convinced this technology is going to come to market".  Urmson sites, "the least reliable part of the car is … the driver", and quoted alarming statistics:  1.2 million people are killed on the world's roads every year.    He is not far off the mark here, as according to the World Health Organisation (WHO), "approx. 1.24 million deaths occurred on the world's roads in 2010".  And that is why Google is going with a fully self-driving system rather than a driver-assisted model.
"The better the technology gets, the less reliable the driver's going to get", says Urmson.   This was displayed clearly during one of the experiments with a driver-assisted car, where a driver noticed his phone battery was running low and turned around to find his laptop and charger, whilst the car was moving.    Perhaps there are too many distractions for drivers?
Technology at Google has allowed Urmson and his team to explore how the driverless car can detect and navigate unpredictable traffic obstacles such as construction work, a car making a U-turn, or a cyclist running a red light.  With increased traffic congestion and commute times increasing, the use of a driverless car could save us valuable time while we cross off things on our To Do list.  From emails, to social media to phone calls – currently, drivers attempt these anyway, so at least with driverless technology, it would be safe and legal to multi-task.