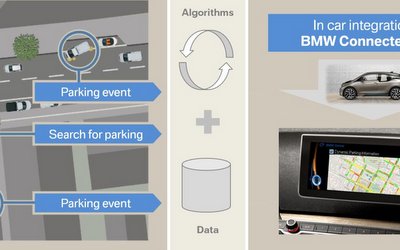 Take the frustration out of finding that elusive parking spot with BMW's new "predictive parking" feature (iPark), unveiled during the recent Detroit car show.  According to Fortune in the US, "drivers waste an average of 55 hours a year looking for parking, costing consumers and local economies nearly $600 million in wasted time and fuel".  Not only is there the cost trade-off, but in densely populated areas, there is an impact on urban mobility, as traffic jams build up, due to cars and buses being blocked from their journeys.
Through BMW's partnership with Inrix, a complex web of data collection will allow parking information to be displayed on the car's dashboard.  Just like the traffic feature in Google Maps, colour-coded bars will indicate the probability of open street parking, ranging from green (meaning lots of spaces) to red.  Pricing, parking and permit restrictions will also be displayed.  If on-street parking is unavailable, drivers will be directed to off-street parking locations. This is just one example of how major automobile companies are tackling urban mobility issues and sustainability on the roads.
However, don't expect the technology to be available anytime soon in Australia, as the roll-out will start in a number of selected cities in Europe and America first.