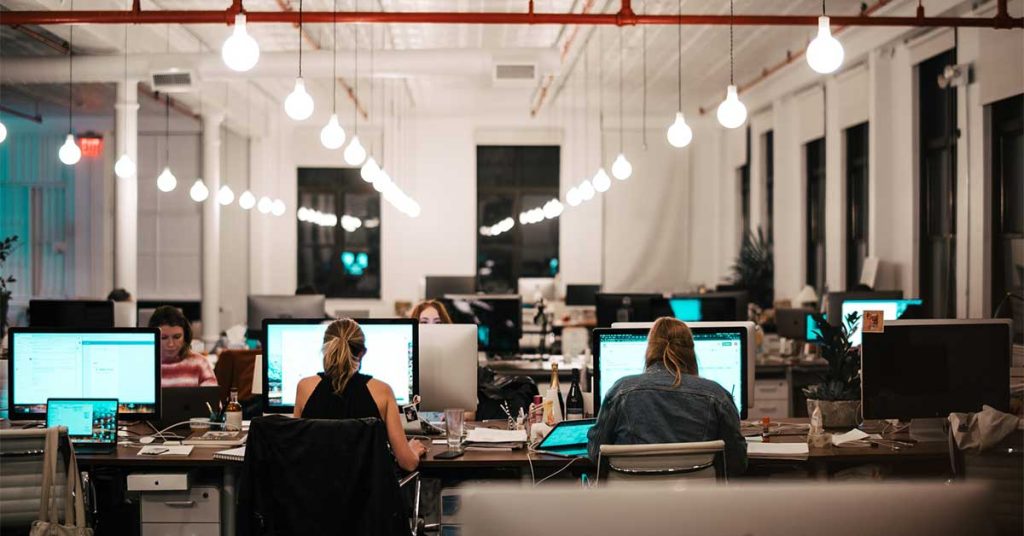 The latest figures from Property Council Australia show a jump in office workers returning to the CBDs throughout Australia. The largest rise was recorded in Canberra, office occupancy rates were 39% in April and 60% in May.
Sydney and Melbourne recorded around 50% occupancy rate.
We might not reach pre-pandemic levels, according to Property Council Australia Chief Executive Ken Morrison, but he expects Sydney and Melbourne to achieve  70-80%. Although flexible work arrangements will continue to affect office occupancy it seems that there is an overall interest in the benefits of returning to the office for most days.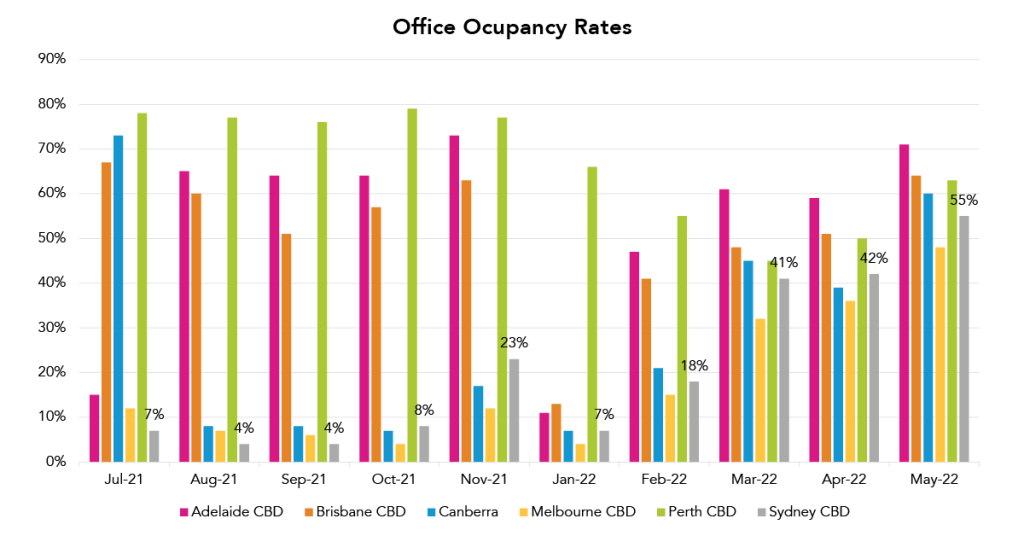 A survey by the Victorian Chamber of Commerce and Industry of small, medium and large business, indicates that most businesses (69%) don't expect employees returning to the office full time. A hybrid model is most likely to occur.
Presently, 40% of employees are working in the office 1 to 2 days a week. Of the surveyed businesses, 40% have not mandated minimum days at the office, 20% have mandated a minimum 3 days a week and 19%, 2 days a week. Only 14% of respondents required employees to return 5 days a week.
The main barriers for employees to return to the office are length of commute (31%) and work-life balance (21%). Fear of contracting COVID-19 was pointed out only by 15% of respondents.
Changing habits is not an easy task. We've spent the last 2 years perfecting the work from home model and employees got used to its benefits. The challenge now is making offices attractive to employees again. At least 47% of businesses indicated that the productivity of their employees increases when they are at the office.
According to the research, 21% of businesses are offering social incentives, such as team drinks and meals to attract staff back, 19% are hosting in person meetings and catch ups. Although these are good strategies to attract employees back to the workforce, they do not address the main issues raised by people being the commute time and work-life balance.
The quest for improving employees' work-life balance is not new but certainly has been boosted after the pandemic. In the UK, 3,300 workers started a four-day working week pilot program on the 6th of June. Researchers from several organisations will analyse the impacts of the six-month trial on productivity and quality of life. Spain and Scotland have plans for government backed programs to trial four-day working week later this year.
In addition to what employers could do, cities can change to adjust for a different relationship with the office. That is the topic of our recent article What do we want for our cities?